Minnesota Child Custody: Laws & More
Parents file for custody in different situations. When married parents divorce or legally separate, they begin the custody process for their minor child. When unmarried parents are no longer (or never have been) in a relationship with each other, they may need to clarify their parenting roles.
If you are not already a legal parent, you must establish legal parenthood before you seek custody.
The result of the custody process is an enforceable court order that defines both legal and physical custody, the child's residence and who will pay what amount of child support. Often, it takes the form of a detailed parenting plan, which covers how you will cooperate to raise your child.
Agreeing on a parenting plan lets parents avoid a trial. If you and the other parent cannot agree, you may submit separate proposals to the judge, who may accept one of your proposals or may instead create a different parenting plan for you.
Visualize your schedule. Get a written parenting plan. Calculate your parenting time.
Types of custody
If you are just starting out in the custody process, it's important to understand the basics.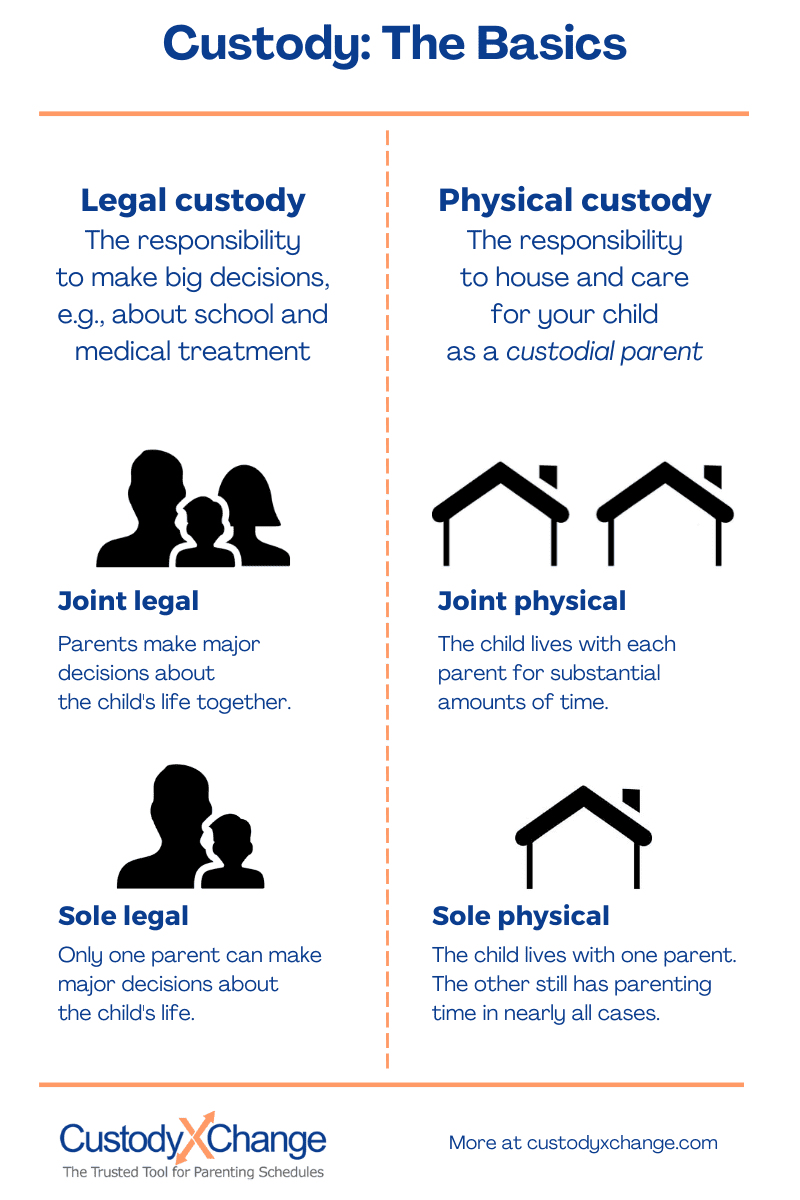 With joint legal custody, parents must cooperate on major decisions. The court prefers this when at least one parent requests it and there is no domestic abuse. But if evidence shows it may not be best for the child — for example, when a parent is unfit or parents cannot cooperate — the court is free to order sole legal custody to one parent.
Judges almost always prefer to award joint physical custody too. This implies substantial time living with each parent. Sole physical custody designates the child as living with only one parent.
Regardless of the physical custody label, each parent gets at least 25 percent of the child's time, except in extraordinary circumstances. Courts can enforce the parenting time schedule and percentage, so those are often more important for Minnesota parents than the physical custody label. (The label may matter more if a parent moves to another state or country where it has a specific percentage attached.)
Keep in mind that just because one custody type is joint doesn't mean the other type is also joint. A judge can award sole legal and joint physical, or joint legal and sole physical, though neither combination is common.
Settling out of court
Judges want parents to decide custody arrangements together. If you and the other parent come to an agreement about the parenting plan at any point in the custody process, you can settle your case. The judge will accept your settlement (making your plan legally binding) if they believe it serves the child's best interests.
Minnesota law requires that parents try an alternative dispute resolution (ADR) method like mediation when they can't agree on their own. Unless your case involves abuse, your judge will typically require you to complete ADR before they schedule a trial.
Factors the court considers in custody cases
Whether they're ruling after a trial or approving a settlement, a judge makes a custody decision based on the best interests of the child. In Minnesota, the judge considers 12 criteria:
The child's physical, emotional, cultural and spiritual needs
The child's medical, mental health and educational needs
The child's preference, if the court believes they can express it independently
Any domestic abuse in a parent's home
A parent's health issue, including addiction, that could affect the child's safety
How each parent has cared for the child in the past
How willing and able each parent is to care for the child
How home, school or community changes may influence the child's well-being
How parenting changes may affect the child's relationships with the entire family
The benefits of maximizing time with each parent and the drawbacks of limiting time with either parent
Each parent's willingness to support the child's relationship with the other parent
Each parent's willingness to cooperate and resolve disputes peacefully
Domestic abuse will be taken seriously and may override other considerations in this list. However, the court might not award custody to a parent who falsely reports abuse.
Factors the court doesn't consider
By law, the court is supposed to begin with the assumption that both parents can nurture the child. The court should ignore:
Each parent's gender (It doesn't prefer mothers or fathers.)
Whether divorcing parents are of the same or different genders
Parental behaviors irrelevant to the child
Differences in parenting styles
While the court may consider a parent's or child's disability and a parent's military deployment, it doesn't determine custody entirely on that basis.
Parenting classes
If parents in a case disagree about custody or parenting time, Minnesota requires them to attend a parent education program.
The program can be in-person or online, and under Minnesota law, it must be at least eight hours long. Each court suggests an approved set of courses, which may involve different time commitments and fees. Expect to pay about $50 for an eight-hour online course.
A parent education program can teach you:
How family changes can affect a child
Parenting methods for this stressful time
How to prevent parenting time disagreements
Options for resolving disputes
Many other tools you can use during and after your family restructure
You must begin the program within 30 days after filing your case. If you don't attend, the judge may factor that into their custody decision.
The best way to avoid court-ordered parenting education is to cooperate with the other parent.
American Indian children
Each of Minnesota's federally recognized American Indian tribes has its own laws and courts, which you can find through the Tribal Court Clearinghouse. For adoption, foster care or termination of parental rights affecting an American Indian child, the federal Indian Child Welfare Act may apply.
Lawyers licensed by the Minnesota State Bar Association may represent a person with a tribal affiliation in either a Minnesota court or a tribal court.
Special circumstances
Delegating parental authority temporarily
A Delegation of Parental Authority (DOPA) temporarily lets another adult make decisions for your child. It lasts up to one year and can be renewed. This is sometimes used by parents who anticipate arrest or deportation.
Guardians ad litem
The court may appoint a guardian ad litem (GAL) when parents disagree over custody or parenting time. The court will always appoint a GAL when there is an allegation of abuse or neglect. A GAL is a child welfare professional or trained volunteer who investigates the situation and advocates for the child's best interests.
Criminal history
Usually, the court assumes that parenting time serves a child's best interest. However, you must justify the value of your own parenting time if you ever committed a crime against a family member, committed any crime in the last five years or are currently in prison or on probation.
Expected costs
Court fees are often split between the parents. Most are specific to your case, your county and your ability to pay. They commonly include fees for:
Mediation (to help you reach agreement)
Parenting classes (if your case remains contested)
A guardian ad litem (if there is concern about your child's safety)
A custody evaluation (if you are headed for trial)
A guardian ad litem incurs a flat fee of $1,500. A private custody evaluation can be over $10,000, but if the evaluator is provided by the court, it costs less.
Legal help
It's always best to get legal representation to help you through the custody process. If you can't afford a lawyer, you can apply for free or low-cost representation with Law Help MN. The site also has answers to common legal questions. Minnesota Lawyer Referral can also help you find low-cost representation.
If you decide to represent yourself, make sure you consult a lawyer to review your documents and plan of action before you go to a hearing. Minnesota Unbundled Law Project helps you hire a lawyer willing to perform isolated tasks like these. You will also need to review and follow the Minnesota domestic relations statutes and the Minnesota District Court General Rules of Practice.
The Minnesota Judicial Branch has online, phone and in-person Self-Help Centers to answer your questions.
For parents who don't speak English, the Minnesota Department of Human Services provides legal forms in 15 other languages. Non-English speakers have the right to a court-appointed interpreter during hearings. You do not have to pay for the interpreter who helps you at court.
If you need a mediator who works in another language, you may have to locate that service yourself. By using the court's list of interpreters, you may find someone willing to interpret your English-language mediation, but you would have to pay the interpreter for this.
Tools for working with your co-parent
Most parents know which arrangements would serve their child's best interests. What can be challenging is working together. The Custody X Change online app can help you:

Our professional sources
Cresston Law LLC
Cresston Gackle
Minneapolis, MN
Dittrich Law Firm PA
Greg Dittrich
Oakdale, MN
Hvistendahl, Moersch, Dorsey & Hahn PA
Britt Ackerman
Northfield, MN
Lund Law & Mediation Center
John Lund
St. Cloud, MN
Perusse Nixon PLLC
Cindy Perusse
Maple Grove, MN
RAM Law PLLC
John E. Roach
Roseville, MN
Visualize your schedule. Get a written parenting plan. Calculate your parenting time.