Parenting Plans (Custody Agreements) in Saskatchewan
Parenting plans outline how parents will raise their children after they divorce or separate.
In Saskatchewan, parents usually agree on their parenting plan. These plans can become part of a court order with court approval that the plan is in the child's best interests. Some parents choose to have a private agreement, which is legally enforceable even if it is only verbal.
If you disagree on parenting arrangements, parents can each propose a parenting plan to the court. This is recommended as it shows the court you have a thought-out plan for your child's upbringing. It increases the chance that the plan the court orders will reflect what you want for your child.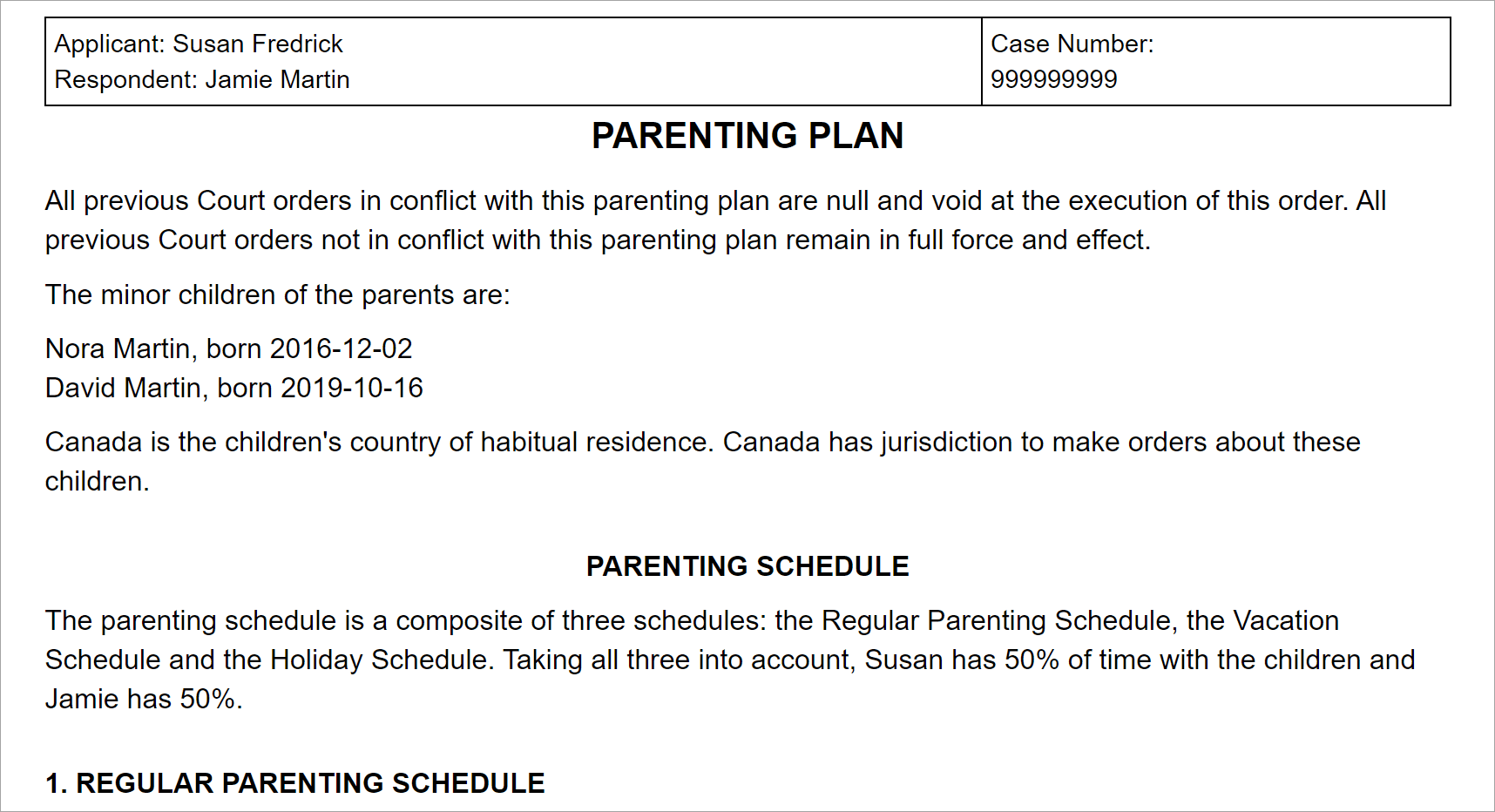 Visualize your schedule. Get a written parenting plan. Calculate your parenting time.
Parenting plan templates
Saskatchewan allows parents to choose their own parenting plan template.
One option is to use the agreement maker provided by the Public Legal Education Association (PLEA) of Saskatchewan. Create an account, then select, "I want to make an agreement to deal with my family law issues." Complete the step-by-step questionnaire to add terms. Your agreement will be available to download as a Word document.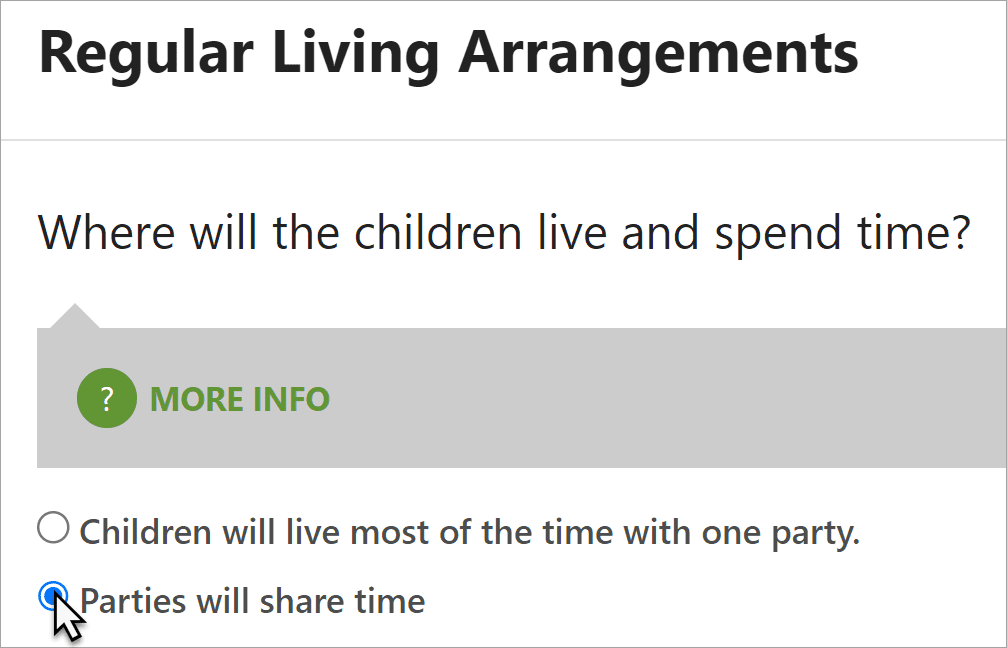 There's also the Government of Canada's parenting plan tool, which covers the basics of a parenting plan.
The Custody X Change parenting plan template is another option. You can choose from more than 140 popular provisions, plus create your own provisions to ensure a thorough plan.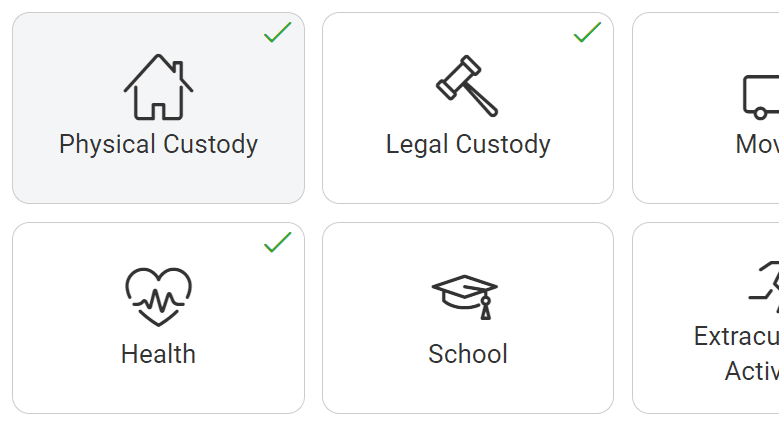 What you must include in your parenting plan
While you have the freedom to choose most of the terms of your plan, at a minimum, you must include the following.
Parenting time: Parenting time is when the child is in the care of a parent. Include a written parenting time schedule that covers where the child will be day-to-day as well as during holidays and vacations.
Decision-making authority: Decision-making authority sets out who can make what decisions for the child. Parents can have an equal say in all decisions, or you can divvy decisions up.
Resolving disputes: You won't always agree on shared decisions. Will you name one parent as the final voice or find a parenting coordinator to help you resolve the issues?
Information sharing: Parents have a right to access information about their child, like their school and medical records. Specify how you will share this information. For example, you can share your child's information digitally or physically.
Other parenting plan provision ideas
A detailed plan is vital if you and the other parent don't get along well. Regardless, your plan should address anything you could see turning into an argument.
Transitions
Set out rules for how you'll handle the child going from one parent's care to the other's. This can include whether you must bring the child to the door of the other parent's residence when dropping them off or a neutral location where you will exchange the child.
Also, cover what you'll do about late transitions. If a parent doesn't show up to collect the child after a certain amount of time, will you cancel the visit? Or will you name a third party who can pick up the child when a parent runs late, like a grandparent?
Communication
Setting out rules for communicating with your co-parent can help you maintain a respectful parenting relationship. You can specify which methods of communication are allowed (e.g., phone calls, texting, email, co-parent messaging app) and even state that parents must not use harsh language when talking to one another.
You can also include how parents may contact the child when it's not their parenting time. Will you specify the times during which the child will check in?
Parents' new romantic partners
When you find a new partner, things can get complicated.
Explain how you'll handle your child's interactions with your new partner to avoid arguments. How long must you be in a relationship with your partner before they can meet your child? Can the partner pick up the child from school?
The child's daily schedule
To keep your child on a consistent schedule, consider setting out specific times when parents agree to have them complete homework, eat meals, go to bed, etc.
Sickness and medical incidents
Detail what will happen when your child needs medical attention or falls ill. You can include rules for administering medication, keeping the child home from school and adjusting visits if the child is too sick to go to the other parent's home.
Modes of transport
Cover how the child will travel to, from and during visits.
Is the child allowed to ride the bus alone? Can they fly alone? If the child has a valid driver's license, can they drive themselves to the other parent's home?
Travel
Set out how you will handle travelling long distances with the child. For example, you can require parents to get the other's consent in writing before taking the child somewhere overnight.
Acceptable content consumption
You may want to set out rules for the content you will each allow your child to consume (e.g., maturity ratings) and how much screen time you'll limit them to.
Parenting plan changes
Detail how often you'll review your plan together. Every year or two years is common.
Respectability clause
Pledge to not badmouth one another in front of the children and to not intervene in the child's relationship with the other parent (unless it is to protect the child).
The easiest way to make a parenting plan
When you're writing a parenting plan, it's critical you use airtight language that leaves no room for interpretation. You must also be careful not to omit any required information.
If you hire a lawyer, they'll write up the plan and ensure it meets the court's requirements.
If you write your own plan, use technology to take guesswork out of the equation. The parenting plan template in the Custody X Change online app walks you through each step.

The result is a professional document that demonstrates your competence as a parent from the first glance.
The easiest and most reliable way to make a parenting plan is with Custody X Change.
Visualize your schedule. Get a written parenting plan. Calculate your parenting time.