60/40 Child Custody: 4-3 Custody Schedule Example
60/40 child custody is one of the many different custody options available to you. This schedule has your child spending 60% of their time with one parent and 40% with the other. It is a very popular schedule because your child spends almost equal time with both parents.
Visualize your schedule. Get a written parenting plan. Calculate your parenting time.
Things to consider about 60/40 custody
There are some requirements for this schedule to be successful. Both parents need to live close to each other and also to the school your child is attending. You also need to be willing to work together and put aside your differences. Finally, consider your child and if this schedule is in their best interest.
Many people wonder why the 60/40 schedule might be chosen by parents or the court. The reality is there are as many different reasons for this schedule as there are people. Each situation is different and unique so the big issue for you to think about is your situation.
Here are some generic reasons why a 60/40 might be chosen:
Schedules of the parents work best if one has a slightly larger time percentage.
One parent has a longer history of spending more time with their child.
The court feels it is the best interest of the child for one parent to have more time.
4-3 custody schedule example
The 4-3 custody schedule is one option if you have 60/40 child custody. It is a very simple custody schedule to use. The parent with 60% custody gets 4 nights of the week, and the parent with 40% custody has your child for three nights.

The great thing about this schedule is you can adjust it to fit the needs of you, the other parent, and especially your child. Some parents use this schedule so one parent gets the weeknights and the other gets the weekend (also known as the every extended weekend schedule). It can also be arranged so the 60% parent has the weekend and some weekdays.
The easiest way to make a 4-3 schedule
Creating a schedule on your own can feel overwhelming. You have to be sure to use airtight legal language and can't omit any required information.
The Custody X Change app takes the guesswork out of the equation by helping you build a schedule piece by piece.
As a result, you get a written schedule and a visual calendar. They meet your family's needs, as well as the court's standards.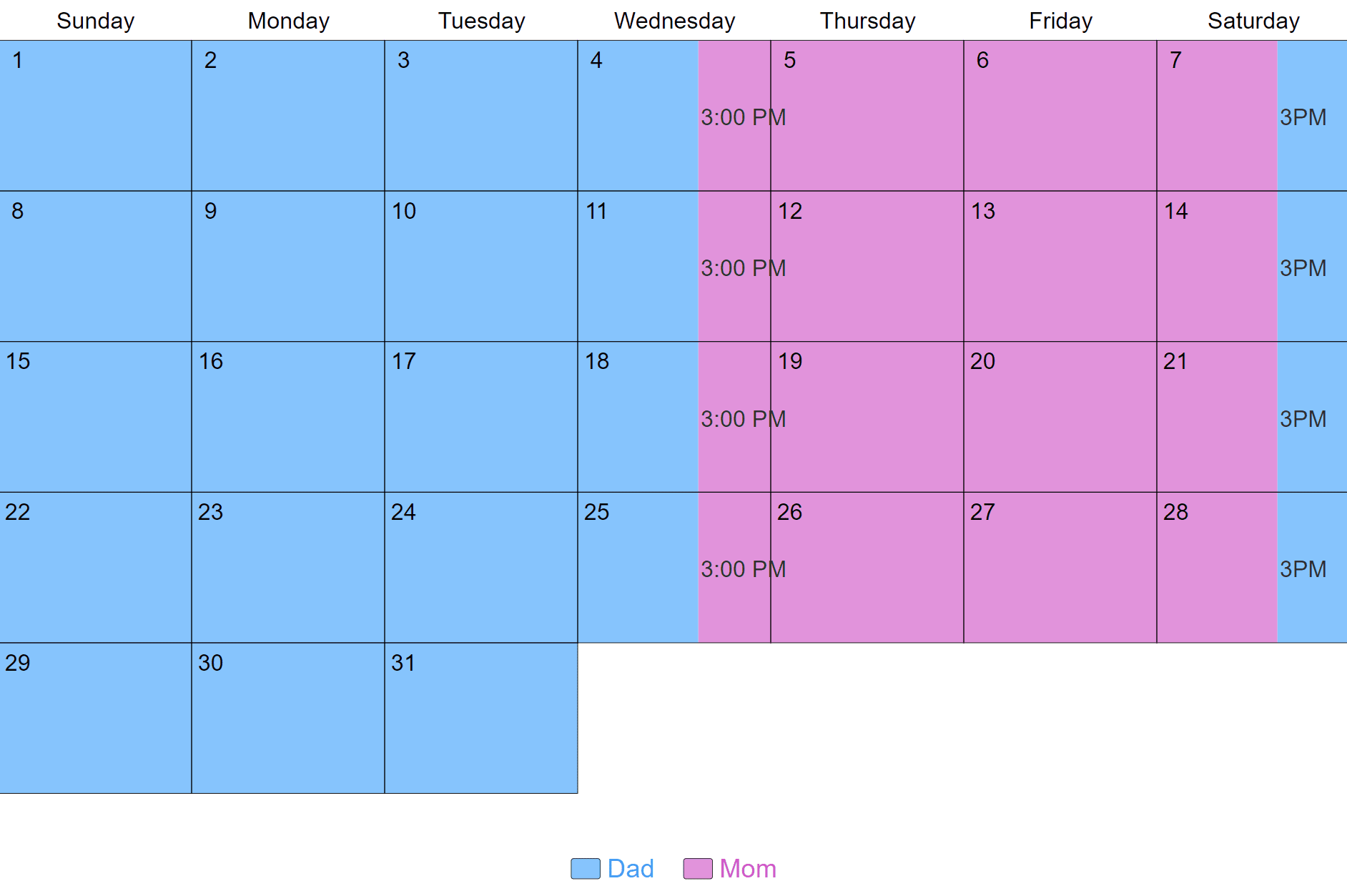 For quick, reliable and affordable help making a custody schedule, turn to Custody X Change.
Visualize your schedule. Get a written parenting plan. Calculate your parenting time.