6 Common Provisions for Your Parenting Plan
To begin making your parenting plan, you can look at some parenting plan template examples to help you get started. Here are some basic issues that you should cover when making your plan.
Visualize your schedule. Get a written parenting plan. Calculate your parenting time.
Physical custody
Choosing where the child lives can be one of the more difficult issues that you discuss. This decision must be made with the child's best interest in mind. Generally, a plan will work better if both parents support where the child lives because there will be less fighting in the future and the parents won't have to go to court.
You can have the child live primarily with one parent, have the child split time between both parents' homes, or have the child live in one home while the mother and father alternate time there. (This is commonly called birdnesting.) You must come up with a schedule that outlines when the child is with each parent. You should also determine where the child will be during holidays. (Look at some parenting time calendar examples to get started on your schedule.)
Legal custody
Legal custody is the right and responsibility that parents have to make decisions for their children. You need to make some sort of plan for how you and the other parent plan to divide or share this responsibility. A mother and father can both share legal custody, or the full responsibility can be given to one parent. If you decide to share legal custody, you need to determine how it is shared. You can give each parent certain categories to be responsible, both parents can discuss and agree on major decisions, the parents can be responsible for decisions when they have the child, etc.
Health care
You must decide how you and the other parent will continue to provide medical and dental care for the child. This means that you must determine how the child will be covered by insurance, how you will pay medical expenses, how you will choose medical providers and what you will do in a medical emergency.
Standards for raising the child
Children need consistency, and you and the child's other parent must work together so the child has some. There will be differences between the parents' homes, but you can establish some guidelines in your parenting plan for raising the child. These guidelines can be common rules the households will share, like the requirement that the child always wears a seat belt in the car. The guidelines can also be rules about how parents will share information about the children.
Education
You must talk about the child's education with the other parent and make some plans. In addition to discussing what school the child will attend, you need to determine how you will let your child participate in extracurricular activities. You must also decide how you will pay for school expenses and extracurricular expenses. It is a good idea to come up with a plan for how you will both be involved in the child's schooling — how you will participate in parent—teacher conferences, how you will handle problems should they come up, etc.
Resolving disputes and making changes to the plan
Parents should include provisions about how they will resolve future disputes and make changes to the plan. The idea behind this is to come up with a system that keeps you and the other parent out of court. You need to have some way that you will work out your differences. You can agree to go to mediation, follow a step-by-step procedure or do anything else that will help. As your child grows older, it will be necessary to make changes to the plan so it better suits the child. You need to have a system for how you will make those changes.
The easiest way to make a parenting plan
Creating a parenting plan on your own can feel overwhelming. You have to address all possible situations, while using airtight legal language.
Use technology to take the guesswork out of the equation. The Custody X Change app walks you through each step of creating a plan.

The result will be a professional document that demonstrates your competence as a parent and secures your child's future.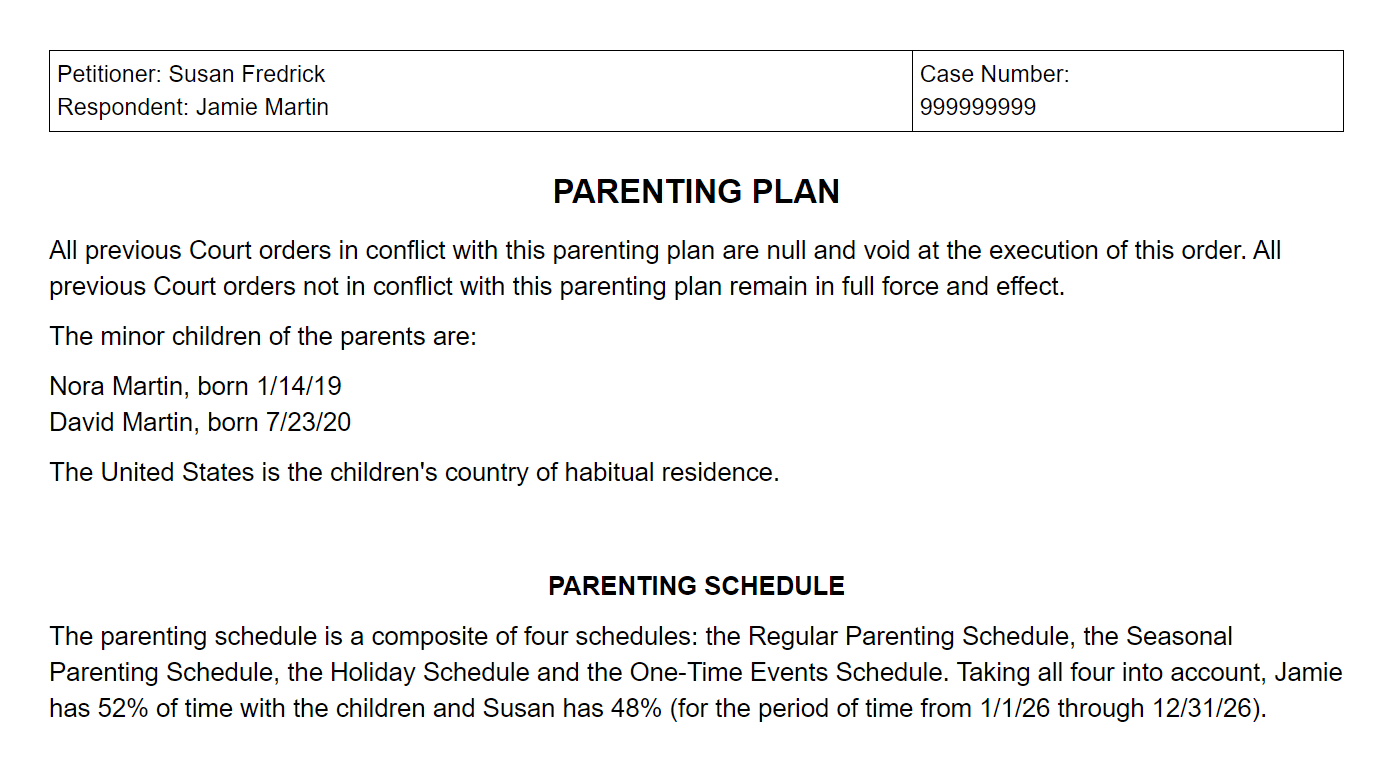 The easiest and most reliable way to make a parenting plan is with Custody X Change.
Visualize your schedule. Get a written parenting plan. Calculate your parenting time.