Examining Standard Parenting Plans
How do I make a standard parenting plan?
You can write up your own parenting plan (on your own or with the other parent) or you can work with an attorney or legal professional and have them create it. If you don't want to pay the high cost of an attorney, and want to easily make your own agreement, you can use the Custody X Change software.
Custody X Change is software that creates parenting plans. You make each part of your agreement, and then you can print professional documents of your plan.
Is there such a thing as a typical parenting plan?
While there are some commonalities found in successful parenting plans, there is no single type of parenting plan that applies to all families. Because each family is unique, a parenting plan should be tailored to meet the family's best interests, particularly the children.
Divorce in the United States is governed by states, so there are many unique steps that you may go through while filing for divorce. However, all states require parents to file a parenting plan of some sort in order to ensure the stability and well-being of the children.
States offer different guidelines about what may constitute a typical parenting plan, so those guidelines contribute to what is often considered a typical parenting plan. There are also certain factors that must be included in a parenting plan to be approved by a family court.
Many parents turn to custody software such as Custody X Change to create parenting plans. The software offers parenting plan templates that help you create a plan that contains common and necessary elements, then lets you include unique details that apply to your family.
What elements are required in standard parenting plans?
While a parenting plan should be tailored to match what your family needs in a post-divorce situation, the family court will need to see certain pieces in place before accepting your plan. Start your parenting plan by addressing some of the necessary components.
Here are 10 things that must be included in a standard parenting plan:
Residential schedule for children
Visitation schedule for the noncustodial parent, including holidays and vacations
Transportation procedures for children
Transition details between visit
Child care arrangements
Visitations with extended family
Rules and restrictions on dating partners for either parent
What happens if one parent must relocate
Methods to negotiate changes to the parenting plan, such as when children grow
Method to negotiate disagreements, such as mediation
Custody X Change software provides you with templates of typical parenting plans that include the necessary factors required by your state. You can modify the parenting plan to suit your reorganizing family.
What additional elements often appear in a standard parenting plan?
Once the required elements of your parenting plan are in place, you can add additional elements to the plan to cover as many parenting aspects as possible. The more detailed your parenting plan is, the less conflict you and the other parent may have because potentially painful decisions will already be made.
Add anything into the parenting plan that you both feel strongly about, including:
Details on administering medication
Special dietary standards
Agreed-upon methods of discipline
Communication between children and the parent they are not currently with
Parent-to-parent communication strategies
Behavior rules, such as internet use, video game standards and dating
Participation in school events
Participation in religious organizations
Take into account each of your children's needs, including age-appropriate parenting techniques. Just as divorcing parents cannot adopt a one-size-fits-all standard parenting plan, even a unique plan must take into account the unique needs of each child.
How should I create a typical parenting plan for younger children?
When you create a typical parenting plan for younger children, keep in mind what they need to develop physically and emotionally. Rather than creating a plan and schedule that suits the parent's needs, put the interests of the children first. Learning about some key child development issues can help you and the other parent create a successful plan.
Here are some child development issues to consider when developing a plan for younger children:
They need shorter and more frequent contact with both parents
They should not be away from the primary caregiver for long periods of time
They should not be forced into overnight visits before they indicate readiness
They need familiar surroundings and may not adjust well to new places and faces
They don't have a good grasp of time and need plenty of personal or phone interaction with both parents
They need dependable routines and stability in order to develop trust
They become anxious and stressed when exposed to too much change at once
Divorce is a stressful time for both parents and children, so take care to introduce new situations slowly and gradually. You and the other parent can introduce changes to your younger children's schedules a little at a time to get them used to the new arrangements. When your children know that their parents want what's best for them, it will strengthen the parent-child relationship for both of you.
How should I create a typical parenting plan for older children?
Parenting plans for older children can be more flexible as far as scheduling, but requires more rules and expectations. Older children can understand a lot more about divorce than younger children and can adapt to changes more quickly. However, you still need to be aware of developmental issues for older children when creating your parenting plan.
Here are 5 things to consider when creating a standard parenting plan for older children:
Provide a home base with meaningful longer visits with the other parent
Set up a reliable schedule so children can make plans and anticipate visitations
Set up house rules that are consistent between your residences, such as for bedtime and homework
Allow children to participate in extracurricular activities such as music or sports, and give them free time for friends
Allow children to assist in the negotiation of visitation and time management
Older children benefit from a parenting plan that emphasizes boundaries and flexibility. Children deserve to have two caring parents involved in their lives, and a successful parenting plan includes elements that ensure that happens. Using software like Custody X Change allows you to customize existing templates to create plans that meet the needs of your older children.
How can I track whether my standard parenting plan is effective?
Keep track of how your standard parenting plan is working by writing in a parenting journal. When you keep a journal of how well the plan and the schedule are working, you'll get a good overview of the areas that may need adjustment to reduce stress.
Custody X Change software features a parenting journal program that allows you to make notations for every day of the year. Record your observations about your children's stress levels, missed appointments by you or the other parent and any other factors you notice that relate to your parenting plan.
When you and the other parent agree on a part of your parenting plan that is ineffective, you can change it to better suit your family's needs. Use the Custody X Change parenting journal to print out a report of all your notes for easy reference.
A standard parenting plan is a fluid document that is intended to grow and change with your family as you strive to provide a loving, stable environment for your children.
The easiest way to make a parenting plan
Creating a parenting plan on your own can feel overwhelming. You have to be sure to use airtight legal language and can't omit any required information.
Use technology to take the guesswork out of the equation. The Custody X Change app walks you through each step of creating a comprehensive parenting plan.
The result is a professional document that demonstrates your competence as a parent and secures your child's future.
The easiest and most reliable way to make a parenting plan is with Custody X Change.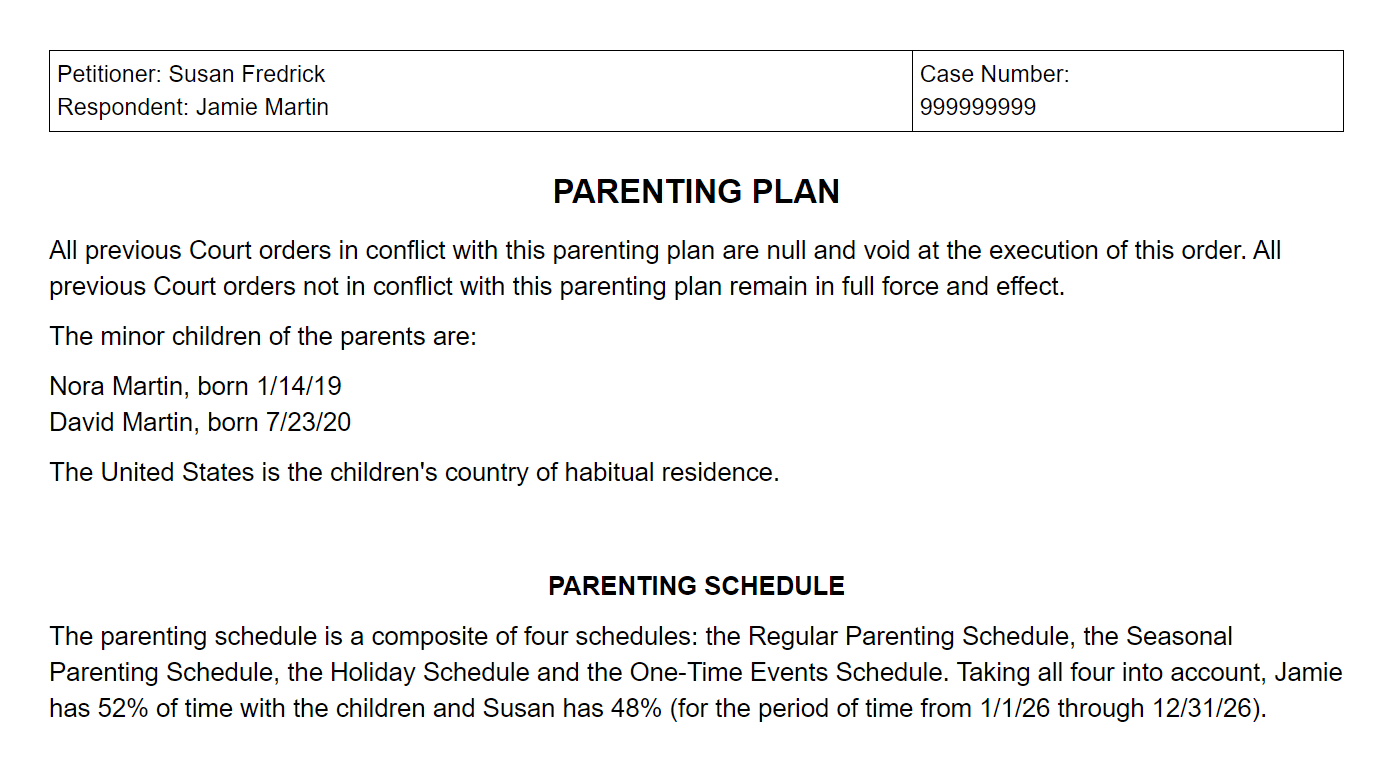 Custody X Change is software that creates parenting plans. You make each part of your agreement, and then you can print professional documents of your plan.