Preparing a Parenting Plan for Court
A parenting plan outlines how separated parents will raise their children. It is required by family courts in divorce cases and often required for other types of cases involving child custody.
Parents should try to agree on a plan since they know their children best.
If you cannot agree with the other parent, the family court will create a plan for you. You should still submit a plan on your own to demonstrate what you think would be best for your children.
Bring calm to co‑parenting. Agree on a schedule and plan. Be prepared with everything documented.
What should I know before preparing a parenting plan for court?
Before you sit down to create a parenting plan, you must know what's required. Check your state's parenting plan guidelines.
A parenting plan must indicate for each child:
Additionally, the following information is often included:
Education plans
Extracurricular activities
Child care details
Child support details (Some states don't want this information in the parenting plan.)
College expense responsibilities
How parenting disagreements will be resolved
The more detailed your parenting plan, the smoother co-parenting will go. The court wants to see how your plan will create a stable, supportive environment for your children.
Many parents find it useful to use custody software, such as Custody X Change, which provides a comprehensive parenting plan template. You can customize the plan so it covers the issues important to your family.
What mistakes should I avoid when preparing a parenting plan?
The biggest mistake you can make is to put the parents' needs ahead of the children's needs. The court wants to see that you and the other parent are working together in your children's best interests.
Other mistakes to avoid include:
Creating a plan that is too vague
Failing to include guidelines for deciding on medical care and paying for it
Forgetting to specify what happens when one parent chooses to relocate
Neglecting to say where parents can travel with the children, if necessary
Leaving out provisions on how to handle disagreements
Custody X Change guides you through each part of a plan so you steer clear of these issues.
What if the other parent won't help prepare a parenting plan?
Ideally, parents work together to prepare a plan for court, but you can make a plan yourself if the other parent won't cooperate.
The court will adopt the best plan for the children, so if yours meets the children's needs, it get implemented despite what the other parent wants.
Here are 10 things a judge assesses when deciding on a parenting plan:
Your children's ages and maturity
Each parent's financial ability to care for the children
Each parent's physical, mental and emotional health
Each parent's proximity to the children's schools, religious organizations and activities
Each parent's proximity to extended family, such as grandparents
Whether either parent plans to leave the area
Each parent's custody preferences
Each child's custody preferences (if mature enough to have informed preferences)
Legal trouble or misconduct by either parent
Whether either parent a history of interfering with visitation
Can the other parent prepare a parenting plan for court without me?
Each parent can prepare a plan to present in court. The plan that best represents the children's needs will be approved, perhaps with adjustments by the judge.
If the other parent submits a plan but you do not, the court may well approve their plan. This is why it's always beneficial to prepare a plan, either on your own or with the other parent.
Tips for preparing a parenting plan
Recognize that the plan will be a legal document that both parents must follow.
Give the plan enough detail to be useful but enough flexibility to be realistic.
Schedule an annual review of the plan during the first few years of implementation.
Be honest about your parenting strengths and weaknesses, then base the plan on them.
Tailor the plan to meet your children's ages and stages.
The easiest way to make a parenting plan
Creating a parenting plan on your own can feel overwhelming. You have to be sure to use airtight legal language and can't omit any required information.
Use technology to take the guesswork out of the equation. The Custody X Change app walks you through each step of creating a comprehensive parenting plan.

The result is a professional document that demonstrates your competence as a parent and secures your child's future.
The easiest and most reliable way to make a parenting plan is with Custody X Change.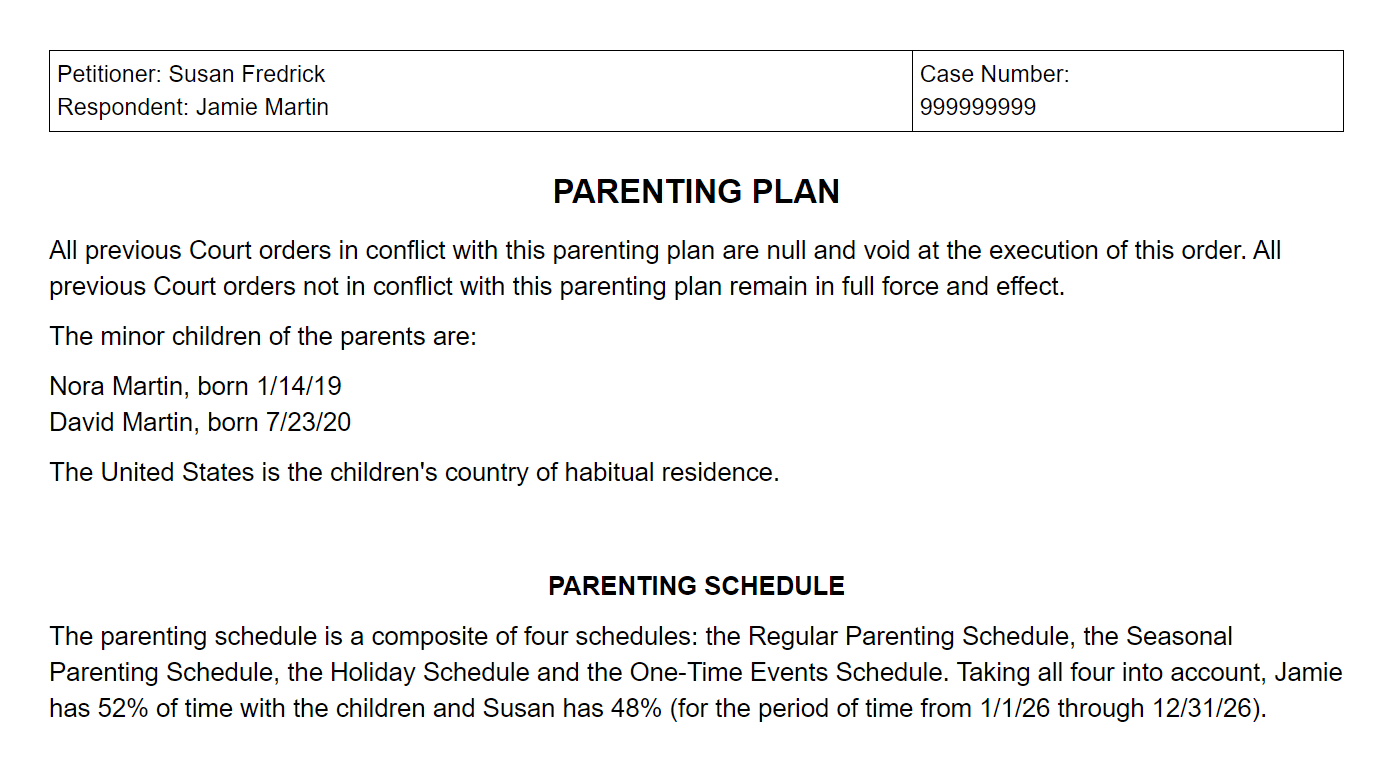 Bring calm to co‑parenting. Agree on a schedule and plan. Be prepared with everything documented.