Joint Custody Agreements
How do I make a custody agreement?
You can write up your own custody agreement (on your own or with the other parent) or you can work with a lawyer or legal professional and have them create it. If you don't want to pay the high cost of a lawyer, and want to easily make your own agreement, you can use the Custody X Change software.
Bring calm to co‑parenting. Agree on a schedule and plan. Be prepared with everything documented.
What is joint custody?
There are two types of custody: Legal custody and physical custody.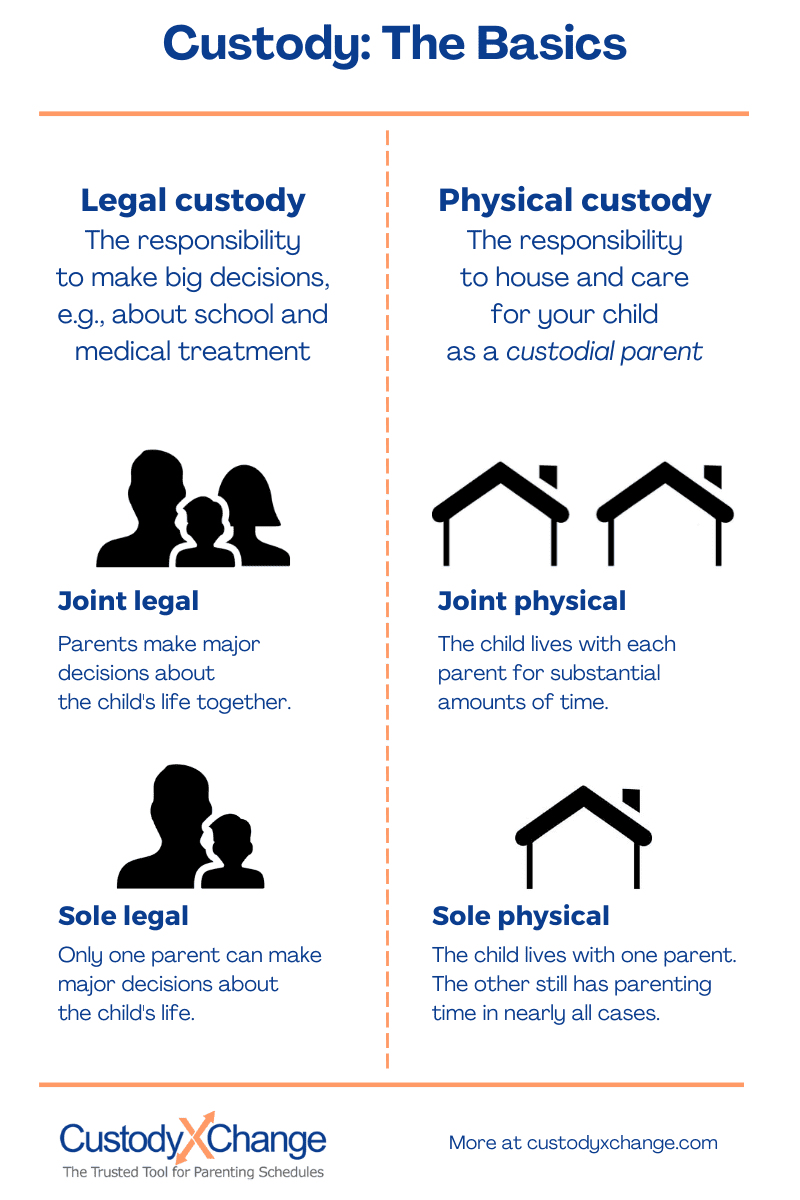 Physical custody pertains to the child's physical care and lodging.
Legal custody is a parent's authority to access their child's records and make important decisions in the child's life. These decisions include ones that affect the child's education, religious upbringing and health.
When parents share physical custody, it's called joint physical custody.
When parents share legal custody, it's called joint legal custody.
Joint custody has different connotations across the country. In this article, it refers to parents sharing both legal and physical custody.
Custody X Change is a great tool you can use to create a joint custody agreement. The software is easy to use. You simply navigate your way through each section and fill in your information. The result is a professional document that is ready to be presented to the court.
Do we have to divide our child's time equally?
Joint custody means you share custody of your child but you do not necessarily have to divide your child's time evenly. While a 50/50 arrangement may work well for some parents, you should not feel obligated to agree to one.
Your custody schedule should allow your child to spend plenty of time with each of you but it should be built around the needs of your child. As long as both of you agree to the plan, you can create a customized schedule for your child. Your schedule can be as unique as your child is.
The judge will review your plan to ensure it will meet your child's needs before approving it. Once your plan is approved, it will become a court order. Judges typically approve custody plans that parents mutually agree on.
Some states place percentages on the amount of time each parent should have the child in order for the custody to be considered "joint". You should refer to the laws that pertain to child custody in your area in order to insure you are properly allocating your child's time according to the parameters of joint custody in your jurisdiction.
Custody X Change features a parenting time report. This report will allow you to obtain a clear picture of exactly how much time each of you will have your child.
If your state demands that each parent is to be allotted a certain amount of time with the child in order to have joint custody, the parenting time report will enable you to make adjustments to the schedule in order to meet the parenting time requirements.
How do I reach an agreement with the other parent?
Agreeing to share custody with the other parent often benefits your child because it promotes collaboration and stability. However, reaching an agreement is not always easy. You may have differences of opinion that could hinder the completion of your agreement.
Custody X Change can be used as a negotiating tool. You can create a proposed custody plan to present to the other parent. Ask him or her to review your plan and to inform you which parts he or she agrees with and which parts still need work. Ask for suggestions. Then you can make changes to your proposed plan and either make the changes your ex requested or offer other suggestions.
You can continue working back and forth in this manner until an agreement is reached. Custody X Change enables you to quickly edit your agreement. You can even save your document in Microsoft Word or as a PDF so you can email it back and forth with ease.
Most courts either offer or require parents to attend mediation prior to the conclusion of their custody case. If you reach a standstill and are unable to progress in your negotiations, the mediator will act as an impartial third party and help you resolve your differences.
What should I include in my joint custody agreement?
One of the benefits of using Custody X Change is you do not have to worry about leaving anything out of your agreement. The software includes all of the components you will need to include in your custody plan.
Your joint custody agreement should include:
What type of custody each of you shall have
Provisions for legal custody and a designation of decision-making authorities
Provisions for the physical custody of your child, including a custody schedule
Methods for periodically reviewing your joint custody agreement
Methods for modifying your joint custody agreement
Methods for dispute resolution in case you disagree on plan modifications or other things in the future
Any other provisions you would like to include
Custody X Change allows you to create a custody agreement that contains all of the elements you need in your custody plan. You can also add your own provisions and stipulations in order to create a complete, customized custody plan for your child.
The easiest way to make a custody agreement
Creating a custody agreement on your own can feel overwhelming. You have to be sure to use airtight legal language and can't omit any required information.
Use technology to take the guesswork out of the equation. The Custody X Change app walks you through each step of creating a comprehensive custody agreement.

The result is a professional document that demonstrates your competence as a parent and secures your child's future.
The easiest and most reliable way to make a custody agreement is with Custody X Change.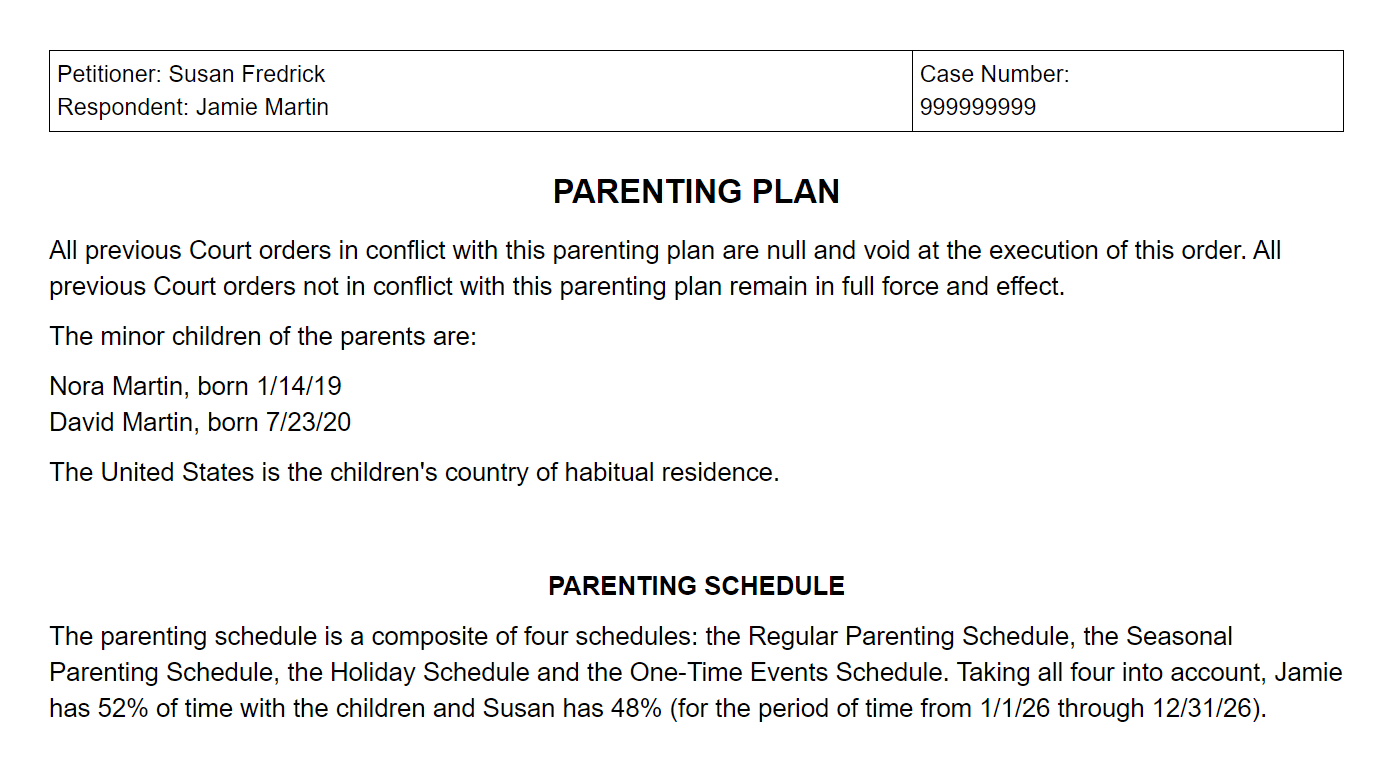 Bring calm to co‑parenting. Agree on a schedule and plan. Be prepared with everything documented.