Preparing a Custody Agreement for Mediation
How do I make a custody agreement?
You can write up your own custody agreement (on your own or with the other parent) or you can work with a lawyer or legal professional and have them create it. If you don't want to pay the high cost of a lawyer, and want to easily make your own agreement, you can use the Custody X Change software.
Custody X Change is software that helps you create a custody agreement.
What is mediation?
Mediation is a method you may use to negotiate a child custody agreement with the other parent.
Mediation is an opportunity to sit down with the other parent and work through the issues you are unable to agree on. The mediator can offer objectivity because he or she is a neutral third party. Mediators help thousands of parents reach agreements each year.
Depending on where you live, you may be required to attend mediation with your ex or it may be optional. Regardless, mediation offers you a chance to find solutions to your custody problems.
What should I bring to mediation?
The court may request you to bring specific documents to mediation. This may include financial documents, medical records, and school records. You will want to check with your specific jurisdiction to find out what paperwork is required.
When you attend mediation, you may feel overwhelmed by the process and forget some of the issues you want to address. It is very important that you are prepared and you don't leave anything out in your session.
To prepare for mediation, you should bring:
Your child's daily schedule, your daily schedule, and your ex's schedule (as close as you can get to it)
One or more proposed child visitation schedules
One or more proposed parenting plans
A list of any issues you would like to be addressed
Any evidence supporting your claims (e.g., daycare invoices for late pickups)
In some places, you are not permitted to give any documents to the mediator if they have not been previously filed in court. If this applies to you, you should still be able to bring in your proposed agreements and schedules for your own reference.
If you are able to agree on some issues beforehand, you can use Custody X Change to create a tentative custody agreement that you can build upon in mediation.
How do I create a proposed visitation schedule?
As with all aspects of your child custody case, you should consider what would be best for your child when you create a proposed visitation schedule.
When a child has two good parents, it is best if the child has frequent, ongoing contact with both of them. You should keep this in mind as you create your proposed schedule and consider options that will allow your child to spend plenty of time with both of you.
Your availability and the availability of the other parent are factors that need to be taken into account when you are creating your schedule. It makes absolutely no sense to schedule parenting time at times that will require your child to be cared for by a third party. If there are regular times that you need a babysitter, you should consider the other parent as a first option.
For example, if you have a recurring event that happens on Monday and Wednesdays from 6pm until 8pm, you should give your ex the opportunity to have the child during that time. If you work days and your ex works evenings, you may want to consider swapping your child during those times so he or she doesn't sit in daycare all day.
Once you figure out when you think the child should be with each parent, you can create a proposed visitation schedule. You may want to make more than one proposed schedule so you can have some options to present to the mediator and your ex.
You can use Custody X Change to create several different proposed custody schedules. You can print them in written and calendar form. Custody X Change schedules are easy to modify and you can even print a parenting time report to show the other parent exactly how much time each of you will be spending with your child.

How do I create a proposed parenting plan?
Your proposed parenting plan should be as detailed as possible and you should include any and all stipulations that you would like to include in your court order.
Some of the portions of your parenting plan will be standard, such as stipulations requiring that you keep each other informed of your current addresses and contact information.
Other parts of your proposed parenting plan will be much more specific and unique to the needs of your child. These portions could include keeping an extra inhaler on hand at all times or restricting the child from being around certain people.
You can include anything you want in your parenting plan but you should keep in mind that your requests should be reasonable. You are not the only parent. If you stick to making decisions that are best for your child, you should be able to create a comprehensive parenting plan.
You can use Custody X Change to create your proposed parenting plan (or plans) in preparation for mediation. Custody X Change prompts you to make decisions on a variety of issues that need to be addressed in all custody cases.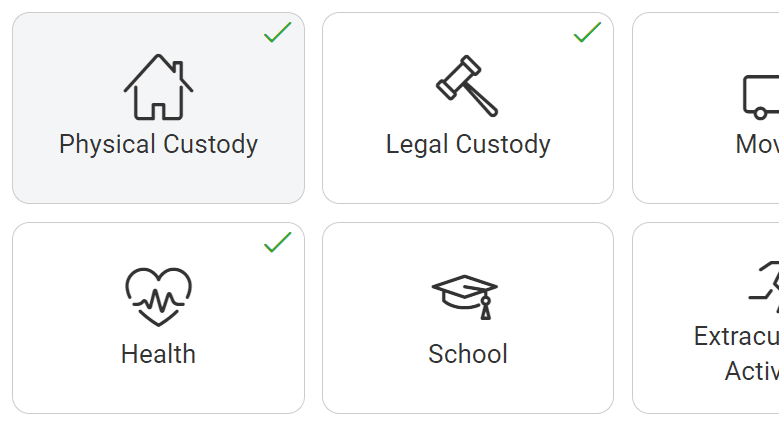 You are also able to add in your own provisions when you use Custody X Change.
How should I handle mediation?
There is more to preparing for mediation than just paperwork. You are going to have to mentally prepare as well.
Try to keep in mind that you are there to do what is best for your child. Be patient and flexible. Be courteous and calm.
Do not argue with the other parent. If the conversation starts to get heated, calmly direct your questions and comments to the mediator instead of your ex.
The mediator will help you sort through the issues you need help with. If you are unable to reach an agreement, you lose control over your custody arrangements as the judge or other court official will make the decisions for you.
Custody X Change is a valuable tool that you can use to create your parenting plan and visitation schedule. You can feel confident when you arrive at mediation with a proposed custody agreement created with Custody X Change.
The easiest way to make a custody agreement
Creating a custody agreement on your own can feel overwhelming. You have to be sure to use airtight legal language and can't omit any required information.
Use technology to take the guesswork out of the equation. The Custody X Change app walks you through each step of creating a comprehensive custody agreement.

The result is a professional document that demonstrates your competence as a parent and secures your child's future.
The easiest and most reliable way to make a custody agreement is with Custody X Change.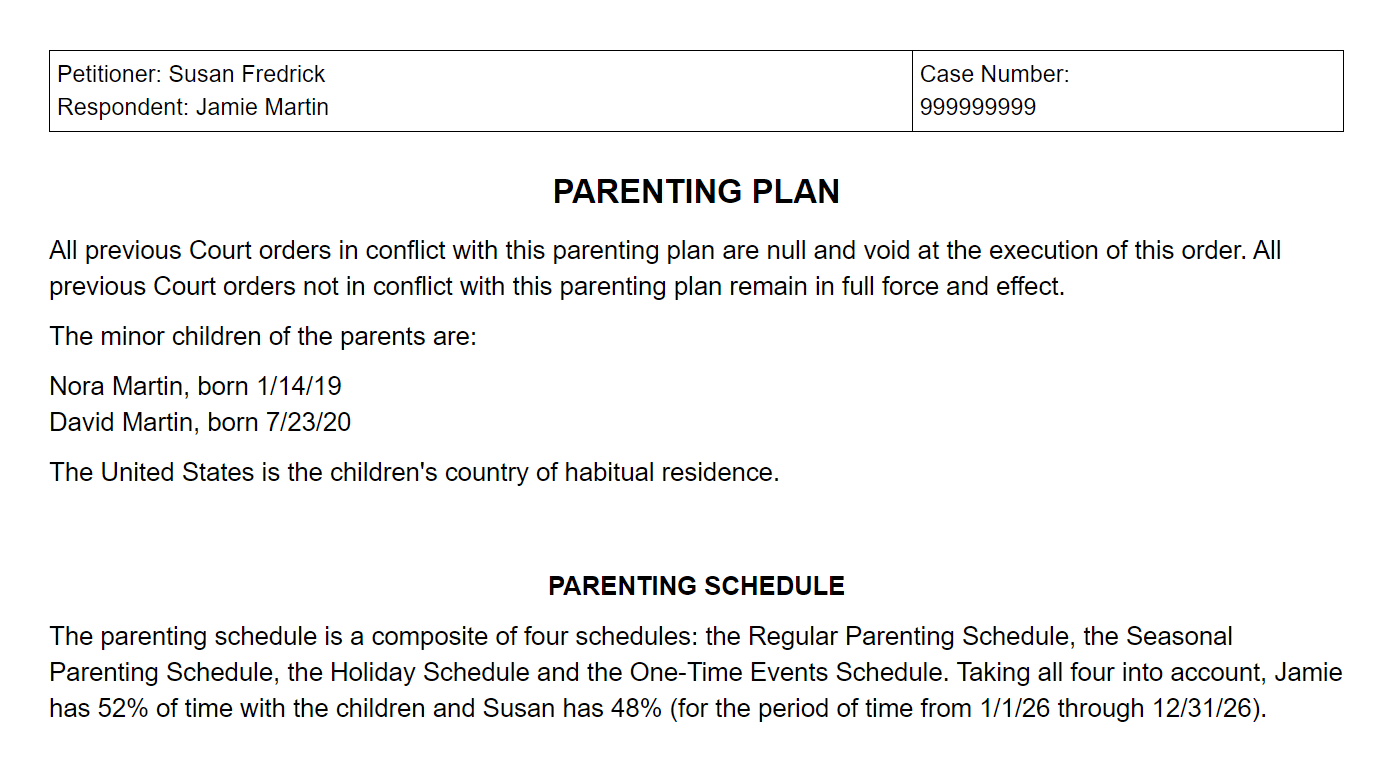 Custody X Change is software that helps you create a custody agreement.