Mother's Day for Joint Custody
Mother's Day is celebrated in many countries on the second Sunday in May as a day of appreciation for mothers. (In the U.K. it's celebrated on the fourth Sunday of Lent.)
Even if you have joint physical custody, where both parents spend significant time with the kids, you may designate the holiday to Mom only. Or you may choose to split the holiday so the kids can celebrate the mothers on Dad's side of the family as well, like a grandma.
Custody X Change is software that creates custody schedules, including for holidays.
Scheduling options
The following schedules show some options that may work for you.
Give the day to Mom
For simplicity, you could give Mom every Mother's Day and Dad every Father's Day.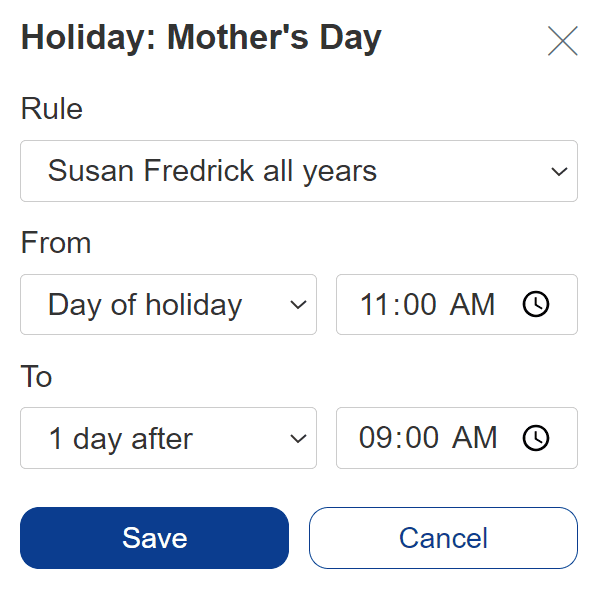 Share the holiday
Parents who want their holiday schedule to reflect their joint custody arrangement may split Mother's Day. If Dad would usually have custody that day, you could add in a daytime visit with Mom. This example lets Mom have the kids the first part of the day and Dad have them the latter part.

Split the weekend
Treating the weekend as part of the holiday allows both parents to have longer visits. You might choose to give parents equal time or Mom the majority.
If your children are in school, plan around their class schedule. The start parent could pick up the child after school on Friday, and the other could take the child to school on Monday.
In the example below, Dad has custody from Friday at 3 p.m. to Saturday at 5 p.m., giving the kids time to make crafts or shop for gifts before seeing Mom, whom they stay with until Monday at 8 a.m.

The easiest way to make a holiday visitation schedule
There's a lot to think about when you build a holiday schedule. You'll want it to address weekend and midweek holidays, reflect special occasions unique to your family (like birthdays) and work for years to come.
The Custody X Change app makes it easy. Just open your Custody X Change calendar and follow our steps to make a holiday schedule.
To make a custody schedule quickly and affordably, turn to Custody X Change. You'll get written and visual versions that meet your family's needs, as well as court standards.
Custody X Change is software that creates custody schedules, including for holidays.