How To Get a Divorce Without a Lawyer
Many spouses choose to handle the divorce process themselves.
Divorcing without a lawyer could save you money and help you maintain an amicable relationship for the sake of your children. But it could also result in the judge ruling against you if you're unable to come up with a solid case for yourself.
Lawyers bring invaluable knowledge and experience to the table. Getting a DIY divorce is a decision that should not be taken lightly. Consider your circumstances and whether you can handle the responsibility.
Visualize your schedule. Get a written parenting plan. Calculate your parenting time.
Can you get a divorce without a lawyer?
The short answer is yes. Courts don't require parents to have lawyers, and many courts have resources for parents who choose to represent themselves (who are formally called pro se litigants). However, proceeding without a lawyer is only advisable for uncontested divorce or cases where the spouses have few assets. The simpler your case, the easier it is to divorce without the help of a lawyer.
Going without representation when your case is contested and involves complex matters like property is more complicated. While you may be able to gather a high-level of understanding, a qualified divorce lawyer knows the minutiae of family property and finance laws that can make or break your case.
If you're concerned about costs, there are ways to get a lawyer without breaking the bank. Some lawyers offer flat rates instead of charging hourly. There's also limited-scope representation, meaning the lawyer will only handle a portion of your case. If you're low-income, you may qualify for free or low-cost representation through legal aid.
Things to consider before divorcing without a lawyer
Here are some considerations to make before you decide to pursue a DIY divorce.
Where are you filing for divorce? Divorce laws, rules and procedures vary between locations and courts. Make sure you know the qualifications to divorce, the court that will hear your case, the forms you'll need and any other important location-specific information.
Do you qualify for divorce? Most areas have requirements spouses must meet before filing for divorce. For example, living in the state or province for a certain amount of time or having a period of separation.
How are your finances? Whether spouses hires lawyers largely depends on whether they can afford it. You may consider representing yourself in court or trying an alternative dispute resolution method.
Do you agree on some or all aspects of the divorce? Agreeing on just a few terms of your divorce could make your case easier to handle on your own or help you save on lawyer's fees. Many parents are able to write a parenting plan together. If you agree on everything, make the parenting plan part of your complete settlement agreement.
Can you dedicate the time needed? It takes a lot of time to gather documents, fill out your paperwork, and do the research you'll need to prepare for court. Make sure you're willing and able to dedicate the time necessary for your case.
How's your relationship with your spouse? Lawyers are essential if you expect your divorce to be contentious. They can handle communicating with your spouse, help you disprove allegations levied against you, and prove allegations you make.
What are the risks? When getting a DIY divorce, many potential mistakes that could derail your case. For example, incorrectly filling out your paperwork can set you back several months or result in the judge not approving your settlement agreement.
How to file for divorce without a lawyer
Filing for divorce is the first step towards getting a divorce.
You'll fill out the forms required by your court. You can find many divorce forms online. If you need help filling them out, your local court may have staff members who can help.
You'll give the paperwork to the court clerk at the courthouse. In some places, you can submit them online. You'll hand in other documents, too, like a copy of your marriage certificate, past tax returns, etc.
Once your paperwork is filed, you'll get a case number.
For the case to officially begin, your spouse must receive copies of your paperwork through a process called service. In some locations, you cannot serve the defendant (your spouse) yourself. You'll need to hire a process server, have the sheriff serve the paperwork, or ask a friend or family member who is at least 18 to do it.
How to represent yourself without a lawyer
A good starting point to representing yourself is reviewing the laws and court processes in your area. Look for law libraries, family law clinics and legal aid offices in your area for help preparing for court. If you do online research, vet the sources and compare information.
You'll need to questions witnesses, present evidence and speak to the judge. Know exactly what you're trying to communicate to the court and make sure your evidence backs up your opinion or allegation. Prepare a list of questions and practice questioning your witnesses beforehand so they know the information you'll need from them.
Being disorganized and unprepared can draw a negative reaction from the judge. Showing that you take the process seriously and have worked hard on your case can go a long way in helping you get a desirable outcome.
Tips for representing yourself in court
The following are useful tips for attending a hearing or trial:
Dress like you're going to a job interview.
Don't bring children or significant others.
Silence or turn off your cell phone.
Don't eat or chew gum.
Arrive early to check in and find the courtroom.
Treat court staff members, your spouse, and everyone present in the courthouse with respect.
Only speak when called to and stand when you're called to speak.
Formally address others in the court. (The judge is "Your Honor." Your spouse's lawyer is "Attorney [Last Name].")
Don't argue with your spouse.
Don't ask leading questions (questions that suggest an answer).
Take notes while your spouse is presenting their case.
Avoid getting overly emotional.
Use technology to prepare for divorce court
Preparation is key to successfully getting a divorce without a lawyer.
The Custody X Change app has all the tools you need to prepare to address the child-related parts of your case.
With a parenting plan template, custody calendars, an expense tracker and more, Custody X Change makes sure you're prepared for whatever issues may arise during your case.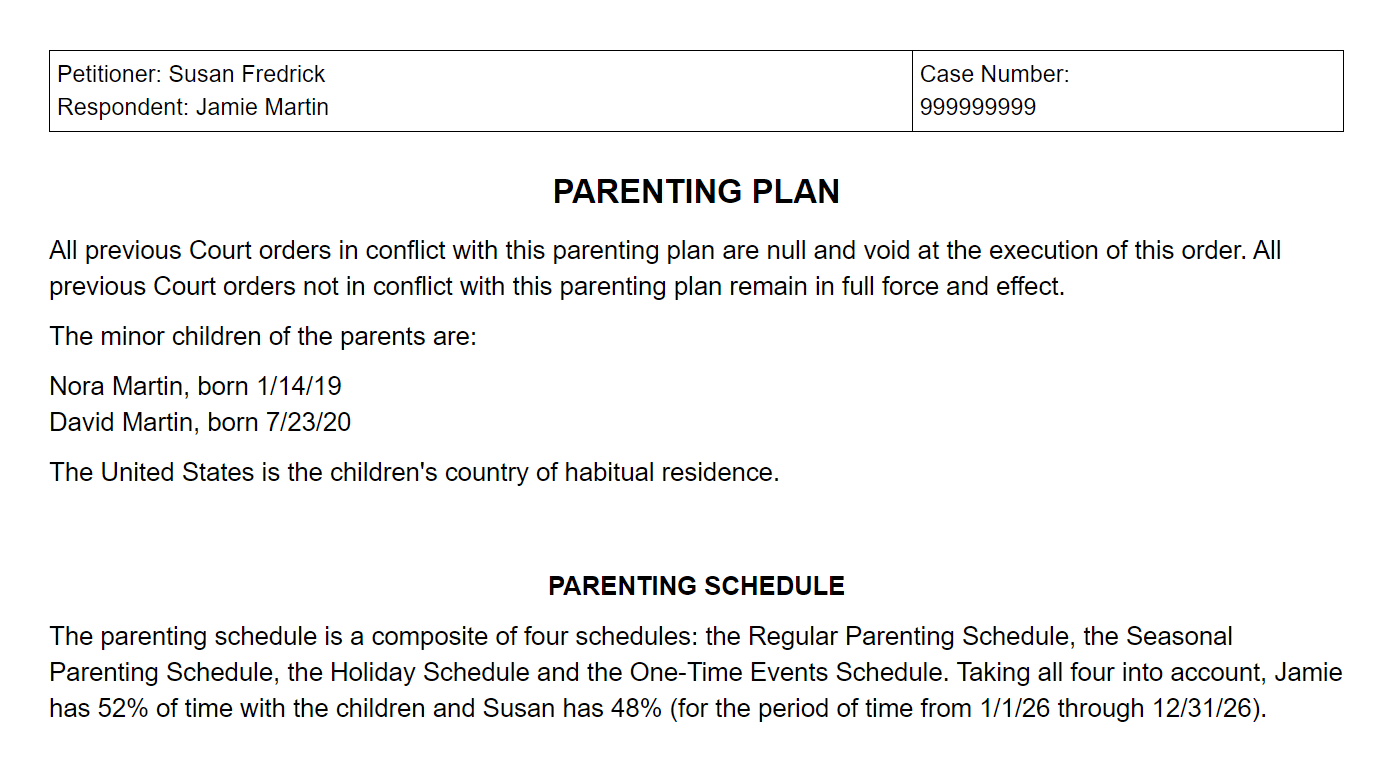 Take advantage of our technology to stay on top of all the moving parts of your case.
Visualize your schedule. Get a written parenting plan. Calculate your parenting time.