Joint Child Custody: Pros and Cons
Joint child custody occurs when parents share legal custody or physical custody of their child. Parents can share joint physical custody (where the child lives with each parent for a specific time period), or joint legal custody (where both parents have equal legal rights and responsibilities to that child).
Deciding what type of custody would work best for you is a big part of your child custody case. You will need to come up with a schedule that works in the best interests of the child, and that is suitable to both parents as well. Joint custody works best when parents are able to get along well enough to decide on a custody agreement, and are willing and able to stick to that agreement.
Visualize your schedule. Get a written parenting plan. Calculate your parenting time.
Here are the pros and cons you should consider before entering into a joint custody arrangement.
Pros
Joint custody allows you to work out a plan based around your child's needs and best interests. Parents with joint physical custody often (but not always) live close to one another, so the child is less impacted by moving from home to home.
Joint physical custody allows the child to spend time with each parent, and for each parent to be involved in their child's life.
Joint custody allows the parents to share the day-to-day responsibilities of raising their child, so the work and expenses are often divided equally.
If the parents are able to cooperate and get along, joint custody arrangements can be easier for all involved parties.
Cons
If parents aren't able to get along, the scheduling and planning of joint custody can be a nightmare, and parental fighting can have negative effects on your child.
With joint physical custody, the child is moved from place to place more often, and usually maintains two homes. As a result, important school papers or sports gear can easily be left behind in the "wrong" home.
It can become expensive to maintain two homes large enough to house multiple children.
Arguments can arise over pick-up and drop-off schedules, over who is paying "more" of the child's expenses, and which parent is getting the easier schedule.
The child can be made to feel like a referee, or used to deliver messages between parents who are unwilling to work together.
The easiest way to make a joint parenting plan
Whether you create a plan with the other parent or create one on your own, the process can be overwhelming. You have to address all possible situations, while using airtight legal language.
Use technology to take the guesswork out of the equation. The Custody X Change app walks you through each step of creating a plan.
It's easy. Just use our guide to selecting parenting plan provisions.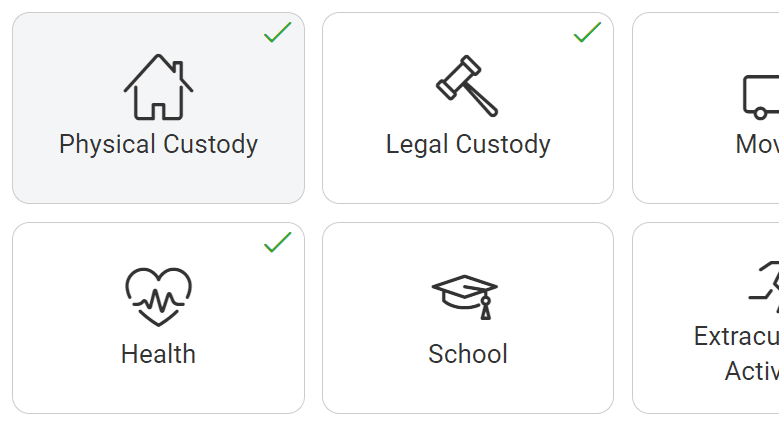 The result will be a professional document that demonstrates your competence as a parent and secures your child's future.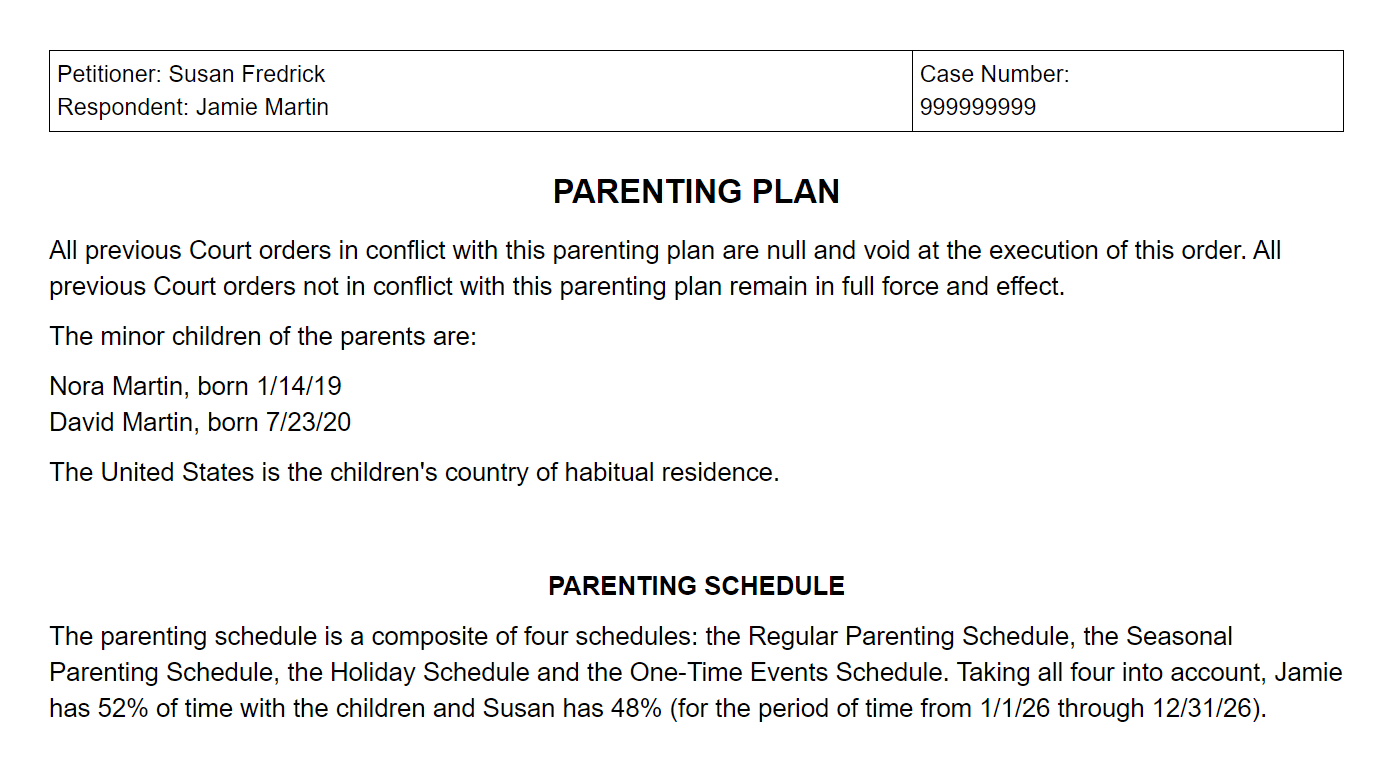 The easiest and most reliable way to make a parenting plan is with Custody X Change.
Visualize your schedule. Get a written parenting plan. Calculate your parenting time.