Parenting Plans in Manitoba (Parenting Agreements)
In Manitoba, parents who cannot come to an agreement on parenting arrangements must create a proposed parenting plan to show their ideal method of parenting.
Parents who agree on how to raise their children can create a parenting plan together. They have the option to keep this as a private custody agreement between themselves or file it with the court so it may become a court order. If you're divorcing, your custody agreement is one part of your divorce settlement agreement.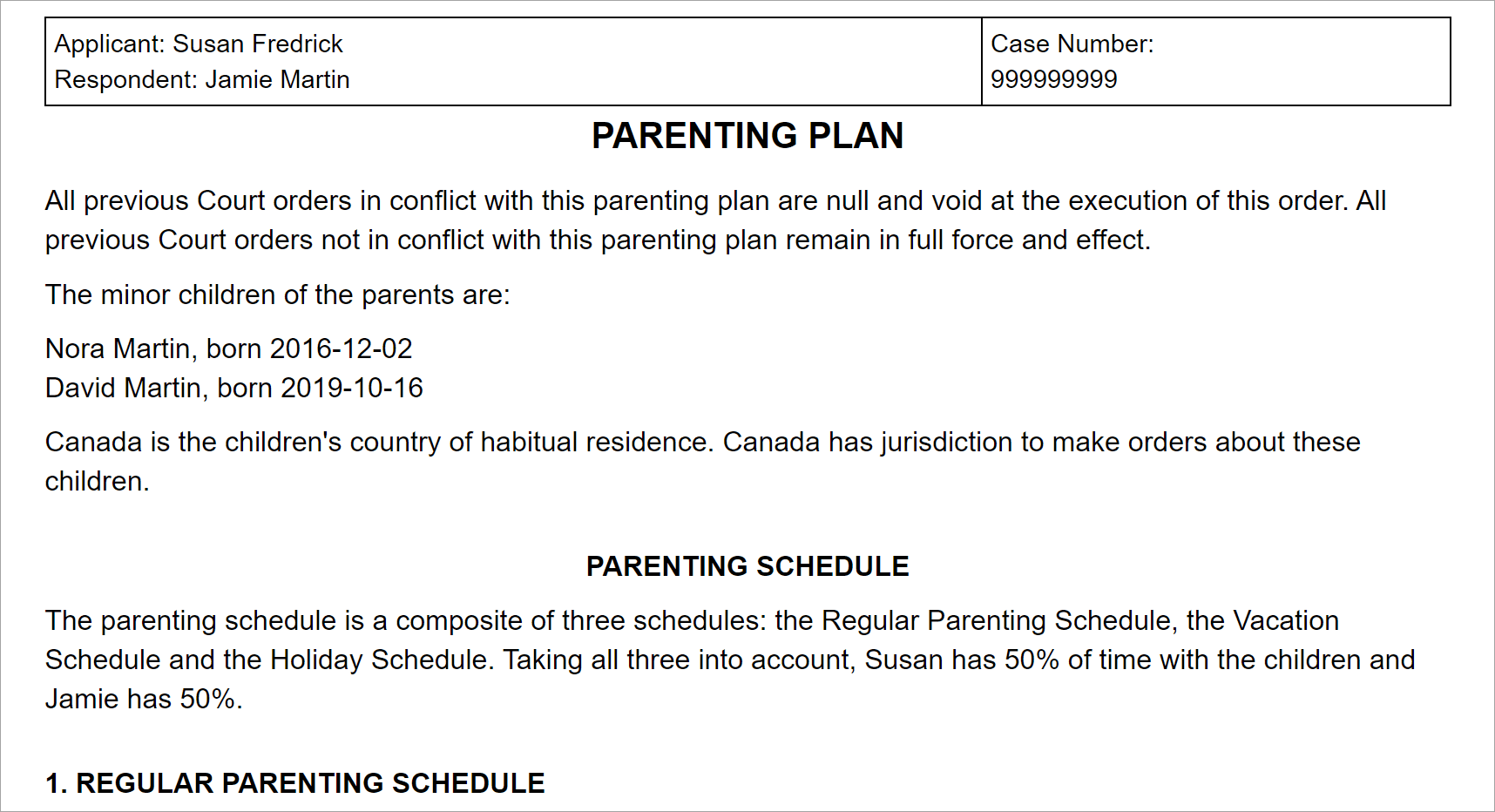 Visualize your schedule. Get a written parenting plan. Calculate your parenting time.
Parenting plan templates
You can create your own template or use one of the following.
The Government of Canada's parenting plan tool covers the basic components of a parenting plan.
Using a format like the Custody X Change parenting plan template allows you to create a more thorough plan that includes custom provisions.

Required topics in your parenting plan
Manitoba requires parents to cover the following topics in their parenting plans. Be specific in your descriptions, and leave nothing to assumption.
Parenting time
Parenting time is the time the child spends with each parent.
If you're divorcing and one parent is awarded more than 60 percent of the time, they have majority parenting time. If each parent is awarded at least 40 percent of parenting time, you have shared parenting time.
If you are not divorcing, the terminology is slightly different. A parent with more than 60 percent of parenting time has primary care and control. Shared care and control is when each parent has at least 40 percent of parenting time.
Most families follow a parenting time schedule. (The court calls this specified parenting time.) You can use a visual schedule or explain it in writing.

If parents get along exceptionally well, they may have reasonable parenting time. They decide when the child is with each parent as they go along instead of following a set schedule. This arrangement typically only happens by agreement.
Decision-making authority
Decision-making authority lays out which parent can make major decisions about the child.
Typically, both parents have an equal say in major decisions, but you can designate a different arrangement if you think it is appropriate. Some parents choose to appoint a "tiebreaker" who will have the final say. This can be one of the parents, a relative, friend or a professional.
Generally, when the child is with a parent, the parent can make day-to-day decisions for them.
Information sharing
In Manitoba, parents have a right to receive school, medical and other records about their child — even if they don't have the right to make decisions about the topics.
In your parenting plan, detail how you'll exchange records. Will you hand them over in person? Or send them via email? Through an app? If both parents are Custody X Change users, you can link accounts and share records using the child info or co-parent messaging features.
Optional parenting plan provisions
Account for everything that may arise in your parenting journey to avoid disagreements and court intervention. The following are just some of the many terms you can add to complete your parenting plan.
Third-party access
If you're going to let grandparents or other relatives have regular visits with the child, include the arrangement in your parenting plan. For example, you might say that grandparents can have access only during their own child's parenting time, or you might set a schedule.
Knowing where the child is during visits
Many parents get into arguments over where the child is while in the other parent's custody. Include a provision in your plan that states whether a parent can track the child's location electronically or when a parent must inform the other of the child's whereabouts.
Moving
By law, if you're planning a move that will impact your child's relationship with their other parent, you must notify your co-parent at least 60 days before moving. If you agree to more-advanced notice, put this in your plan.
Also, set out how the parenting time schedule will change based on distance moved or how you'll decide on changes.
Communication
Parents will need to communicate with one another and the child. State which methods are allowed. Face-to-face? Over the phone? Email? Text messages? Or will you communicate through a parenting app? You may also want to set limits on when or how often you'll communicate.
Sharing photos and videos
Explain how you will exchange mementos like digital photos you take of the child or yearbook photos.
Social media
Is your child allowed to have a social media account? Are parents allowed to post pictures of them on social media? You can include these rules in your parenting plan.
Diet
Both parents need to be aware of the child's dietary restrictions or allergies. List the child's allergies and any foods that you agree not to allow them to eat.
Disciplining the child
To maintain consistency between households, set rules for how you'll handle disciplining the child. For example, if the child loses cell phone privileges in one household, does the other parent have to enforce the same penalty?
The easiest way to make a parenting plan
When you're writing a parenting plan, it's critical you use airtight language that leaves no room for interpretation. You must also be careful not to omit any required information.
If you hire a lawyer, they'll write up the plan and ensure it meets the court's requirements.
If you write your own plan, use technology to take guesswork out of the equation. The parenting plan template in the Custody X Change online app walks you through each step.

The result is a professional document that demonstrates your competence as a parent from the first glance.
The easiest and most reliable way to make a parenting plan is with Custody X Change.
Visualize your schedule. Get a written parenting plan. Calculate your parenting time.