Deciding a Holiday Schedule for Your Parenting Plan
How do I make a holiday schedule for a parenting plan?
You can write up your own parenting plan (on your own or with the other parent) or you can work with a lawyer or legal professional and have them create it. If you don't want to pay the high cost of a lawyer, and want to easily make your own agreement, you can use the Custody X Change software.
Visualize your schedule. Get a written parenting plan. Calculate your parenting time.
What is a holiday schedule for a parenting plan?
The holiday schedule for a parenting plan is a portion of the visitation schedule that addresses where your children will be for each holiday. Because both of you want to spend special holidays with your children, you must work out an agreement.
It can be hard to divide the holidays between you without stirring up negative emotions. When you can prepare a holiday schedule for a parenting plan in advance, you can reduce conflict because everyone already knows what will happen at any given holiday.
Here are some of the days that should be considered holidays when creating a holiday schedule:
Basic holidays that usually result in a 3-day weekend, such as President's Day and Columbus Day
Holidays that include lengthy time off from school--generally Thanksgiving and Christmas/winter break
School holidays that occur throughout the year, such as teacher preparation days and spring break
Any religious holidays that you and your family celebrate
Your child's birthday
Your own birthday and the other parent's birthday
Working together with the other parent on a holiday schedule will result in establishing a workable visitation schedule that allows your children to spend time with both parents during the holidays.
Do I need a holiday schedule for a parenting plan?
Every state requires some sort of visitation or custody schedule as part of a parenting plan, including how the children will spend their holidays, so you need to address holidays as you create your overall schedule.
Your custody schedule needs to be as detailed as possible when it comes to planning holiday visitations. Ambiguity and vague language will only lead to misunderstandings and debate down the road.
Creating a detailed holiday schedule in advance also allows you and the other parent to make detailed plans so you can carry out family traditions, get together with extended family and reduce typical holiday stress.
Your children will also benefit from a holiday schedule in the parenting plan. Children thrive on routine and stability, and knowing where they will be for upcoming holidays allows them some peace of mind. It can even enhance their anticipation of the holidays.
Use Custody X Change to create a workable, detailed custody calendar. This award-winning software is easy to use and provides you with a printable calendar as well as one you can upload to your mobile devices.
Can't we just improvise a holiday schedule for a parenting plan?
Each state requires divorcing parents to come up with a custody schedule for the children, with the idea that such a schedule will help parents avoid improvising, which usually leads to conflict and
Perhaps you feel that you and the other parent can just work out a holiday schedule between you and agree to take each holiday on a case-by-case, but this approach will only lead to conflict and tension, with your children in the middle.
Here are 5 potential areas for conflict when you have no specific holiday schedule:
Parents have no idea what time to pick up and drop off the children
Parents are unsure of transportation arrangements between residences
Parents who both want the children for a specific holiday have no way to work it out other than fighting, usually in front of the children
Children refusing to visit the other parent because they know the visitation is not set in stone
Parents without the children have no opportunity to make other plans and end up alone for the holiday
Just as your parenting plan is designed to regulate how you and the other parent raise your children in separate homes, your holiday schedule can also help with keeping visitations stable, fair and stress-free.
What do I need to know about holiday schedules for parenting plans?
The most important thing to know about creating a holiday schedule within your parenting plan is the importance of compromise. The holidays will never be the same as they were before your divorce, so trying to recreate the past is bound to disappoint everyone.
Understand that compromising is necessary, but when you and the other parent are engaged in a battle over sharing holiday times, it's easy to forget this.
Just remember than compromise doesn't mean sacrificing time with your children during the holidays; instead, it means you get creative about how to share holiday time.
Here are some things to know as you try to create a detailed holiday schedule as part of your parenting plan:
Keep visitations age appropriate. In other words, don't expect toddlers to be away from the primary caregiver overnight. Tailor the holiday visits to what the children can handle.
Include specifics about when the holiday visits begin and end. For example, be clear that a three-day weekend begins after school on Friday and ends at 5:00 p.m. on Monday evening.
Work out which parent transports the children and where. An example of this might be to clarify that the parent currently with the children is responsible for dropping them off to the other residence on time.
Preserve certain traditions your children celebrated in the past when you can. If your children have always attended the other parent's extended family reunion over Independence Day, honor that tradition for your children's sake.
Above all, focus your attention on how you can help your children adjust to the new holiday schedules and what you and the other parent can do to meet each child's emotional needs.
Can holiday schedules for parenting plans be revised?
While you should do your best to create a holiday schedule that will last for several years, it's almost guaranteed that you will need to revise it at some point. There are so many life events that can change your circumstances.
Among the most common reasons to revise a holiday schedule in your parenting plan are:
Your children outgrow the current visitation schedule
You or the other parent relocate some distance away
You or the other parent experience a job change that impacts the schedule
You or the other parent remarry
You or the other parent recognize that certain aspects of the current schedule have a negative impact on the children
Your children request a different schedule based on legitimate issues
You or the other parent are deemed unfit by the family court
To revise your holiday schedule within your parenting plan, use Custody X Change software to draft a sample schedule that includes your changes. Submit that with the proper paperwork to the local family court, then attend a hearing to answer questions and show that the changes will benefit your children.
The court always wants the current parenting plan to promote the children's best interests, so if you can show that the revisions to the holiday schedule will enhance the children's lives, the judge is more likely to approve it.
How do I track whether the holiday schedule for my parenting plan works?
You can track how your holiday schedule is working out as part of your overall parenting plan by keeping a parenting journal. This journal help you record your observations on how the custody schedule is working out.
In the journal, record your observations about how your children are handling holidays, traveling and separations. You can also record any frustrations you are encountering, such as miscommunications, last minute rescheduling and even missed visitations.
Custody X Change software includes a parenting journal feature that allows you to write and store notes attached to specific days on your calendar. When you need to compile a report, you can print out your parenting journal in a single document.
Your parenting journal will allow you to note any patterns surrounding your holiday schedules, and give you a way to track problems so that you and the other parent can address them. It's your responsibility as caring parents to ensure that any negative issues surrounding the holiday schedule in the parenting plan are resolved as soon as possible.
The easiest way to make a parenting plan
Creating a parenting plan on your own can feel overwhelming. You have to be sure to use airtight legal language and can't omit any required information.
Use technology to take the guesswork out of the equation. The Custody X Change app walks you through each step of creating a comprehensive parenting plan.

The result is a professional document that demonstrates your competence as a parent and secures your child's future.
The easiest and most reliable way to make a parenting plan is with Custody X Change.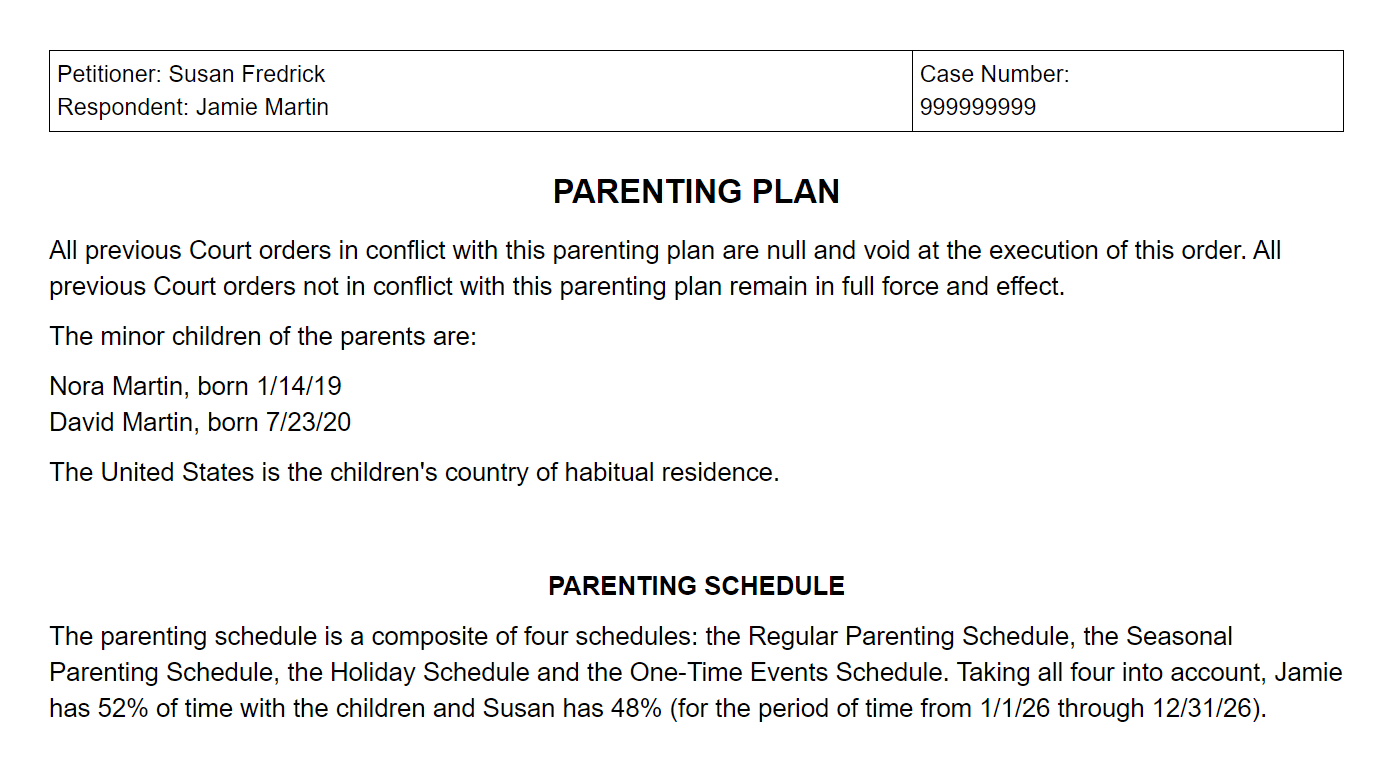 Visualize your schedule. Get a written parenting plan. Calculate your parenting time.