Does It Matter Who Files for Divorce First?
Divorce isn't a competition, but it sure can feel that way. You may want to stay one step ahead of your spouse to avoid getting blindsided. Filing for divorce first is one way to get a leg up.
There are other reasons you may want to file first, like protecting your assets and choosing where the divorce case is heard.
Initiating divorce won't sway the judge, but it can give you an edge. However, there are a few drawbacks that may affect your decision.
Keep in mind that some locations — like Australia, the U.K. and certain parts of the U.S. and Canada — allow spouses to file for divorce together if they have a divorce settlement ready.
Visualize your schedule. Get a written parenting plan. Calculate your parenting time.
Petitioner in divorce
The petitioner is the spouse who files the petition for divorce. Depending on your location, they may have a different title like plaintiff or applicant.
Respondent in divorce
The respondent is the other spouse named in the divorce petition. Depending on your location, they may have a different title like defendant.
Advantages of filing for divorce first
The following are some positives of initiating divorce.
You choose the venue.
You'll choose the court location where the case is heard. The respondent will have to file their forms with the same court and travel there for court appearances.
This is important if you and your spouse live apart — especially in different states. Each state has its own laws about divorce, so this may play a part in where you choose to file.
Be mindful of residency requirements. If you or your child has not lived in the state long enough, your case can't be heard there.
You make the first impression.
The court will get the case from your perspective first. You set the grounds for divorce and make allegations the other side will need to disprove to be successful.
You won't be burdened by deadlines.
You file the petition for divorce on your own time. The respondent gets a limited time (usually 30 days) to prepare and file a response. You can figure out your next move while waiting for a response.
You get a head start.
Once you've decided to file for divorce, you can start preparing for the divorce process. You can hire a lawyer, begin gathering documents, get your money and assets situated and request temporary orders before the respondent.
You could get a default judgment.
If your spouse doesn't respond, you might be able to get a default divorce. This means the court would grant you a divorce without your spouse's input. You'd save time and money and get what you asked for in your divorce petition. However, defaults can be dismissed if there was a mistake or misconduct involved.
Disadvantages of filing for divorce first
The following are some negatives of initiating divorce.
The respondent knows exactly what you want.
You'll have to wait for a response to get an idea of what the respondent is asking for. They'll know what you're seeking right off the bat and can prepare accordingly. At trial, they'll hear you speak first, which could help them effectively counter your arguments.
You might pay more.
You'll have to pay the filing fees to turn in your divorce forms to the court. These fees are often several hundred dollars. Depending on your court, the respondent may pay less. Plus, if your lawyer spends extra time on the case because you retained them early on, you'll pay them more.
The respondent could try to use it against you in court.
Since you're initiating the divorce, the other side could paint you as the more adversarial spouse. This could affect your case if you're a parent since the court will want to see that you can work together.
Plan ahead — especially if you have children
The most important part of divorce is preparation, especially if you have children. You'll want to show the court that you have a plan for raising them in two households.
The Custody X Change app walks you through each step of creating a parenting plan.
The result is an professional-quality document that meets the court's standards and simplifies parenting post divorce.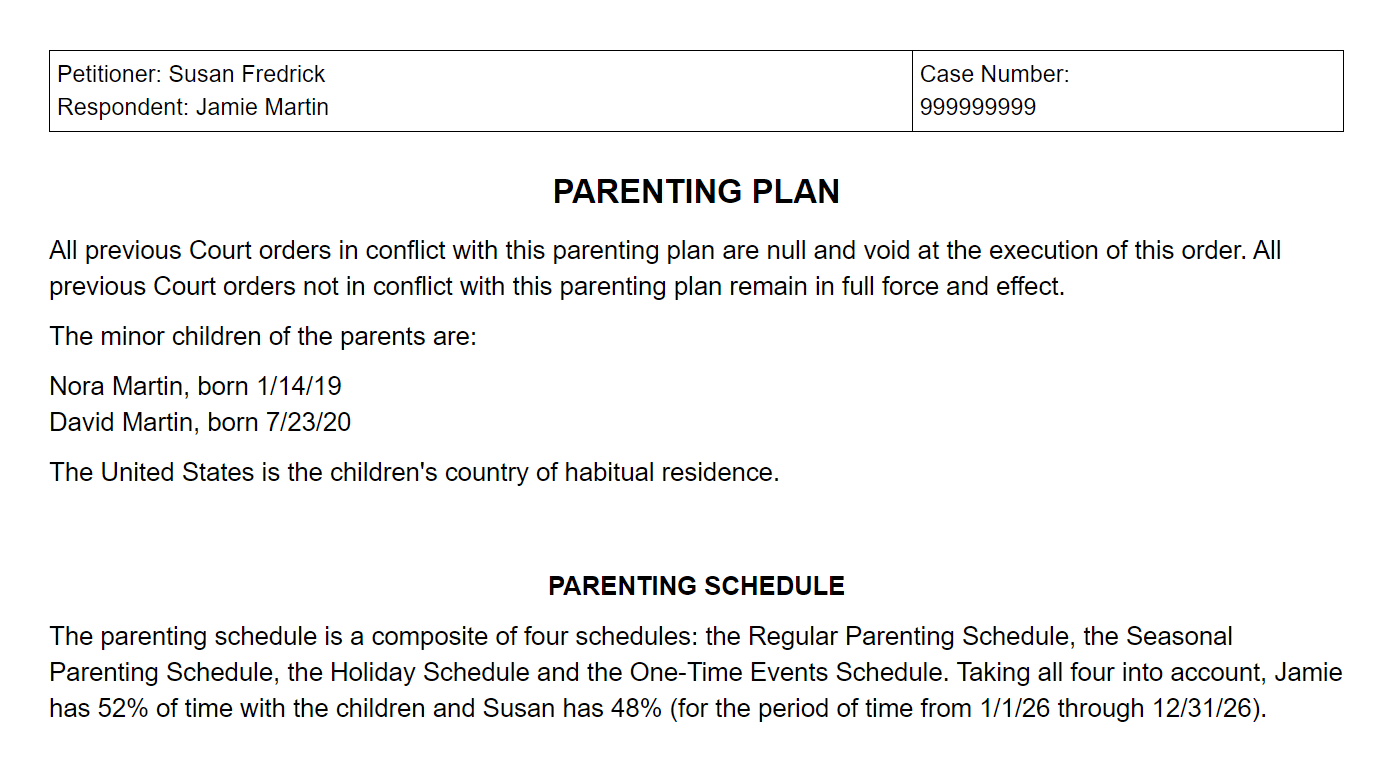 Visualize your schedule. Get a written parenting plan. Calculate your parenting time.