Preparing for Court: What to Expect
Attending your first child custody hearing can be intimidating, especially when you don't know what to expect. Beyond preparing a parenting plan for court, many parents wonder what else they can do. Besides working closely with your lawyer, there are several things you can do to prepare for that important day.
Custody X Change is software that creates professional parenting plan documents and parenting schedules.
Get Familiar With the Law. Learn as much as you can about the child custody laws in your state so you know what happens as your divorce goes through the system. It will also help you when preparing a parenting plan for court because you will have a good idea of what the judge likes to see in a well-written parenting plan.
Gather the Proper Paperwork. Your lawyer can help you determine what papers you will need to bring with you. Common items include a parenting journal, documentation of children's medical needs and statements from witnesses such as teachers or doctors. Many parents also find preparing a custody schedule for court valuable, especially if it demonstrates your ability to be open with the other parent's visitations.
Polish Your Appearance and Etiquette. Review what type of behavior is expected in the courtroom. Practice delivering short but complete answers to questions. Make sure you are neatly groomed and that your clothes are tidy. Wear the type of clothing you would to a job interview or business meeting. Above all, keep your emotions under control and act professionally.
Know What to Expect. When you understand the process of a custody hearing, you'll feel more confident in knowing what's around the corner. Courtrooms are usually smaller than people expect and hearings are fairly short. During a hearing, the judge may ask you, the other parent, the lawyers and any witnesses to speak. The judge will render a decision based on the children's best interests.
Staying organized
The process of deciding custody requires serious organization. You may need to create a parenting plan, draft multiple custody schedules, track your parenting time, calculate expenses and beyond.
The Custody X Change app enables you to do all of that in one place.
With a parenting plan template, custody calendars, an expense tracker and more, Custody X Change makes sure you're prepared for whatever arises in your journey to child custody.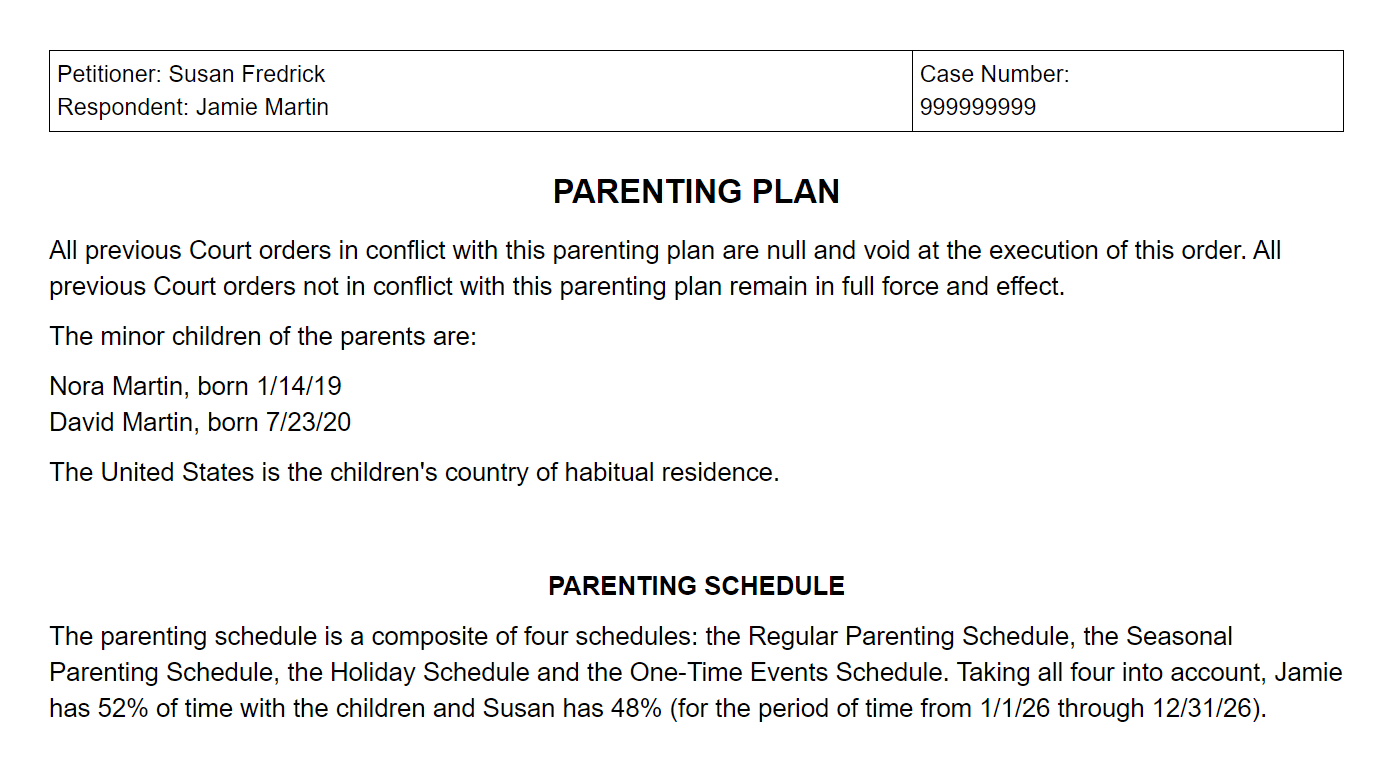 Take advantage of our technology to stay on top of all the moving parts of your case.
Custody X Change is software that creates professional parenting plan documents and parenting schedules.