Visitation Schedules for Teenagers
How do I make a visitation schedule for a teenager?
You can create your own custody and visitation schedule (on your own or with the other parent) or you can work with an attorney or legal professional and have them create it. If you don't want to pay the high cost of an attorney, and want to easily make your own schedule, you can use the Custody X Change software.
Custody X Change is software that creates custody schedules and parenting plans. You make each part of your schedule, and then you can print your calendar and plan.
What should I consider when making a visitation schedule for my teen?
As you create a visitation schedule for your teenager, you may want to consider:
Your child's personality. Is she a social butterfly or more of a homebody? You should make the visitation schedule in a manner than meets the unique needs of your teenager.
The relationship your child has with each parent. While it is always best to try to foster a relationship between your child and the other parent, sometimes the bond is just not there. Sometimes the other parent has not been a willing participant in your child's life. In some instances, the non-custodial parent may have been absent from the child's life.
Hopefully your child already shares a very close bond with both of you but you can address the existing relationships your child has with each of you with an appropriate schedule that allows the child to grow closer to both of you.
Your child's opinion. While you certainly are not obligated to comply with the requests and opinions of your teenager, you may want to consider asking them what they want.
Perhaps Dad has "movie night" every Friday night and your child would like to be able to spend Friday evenings with him. Again, you are asking for your child's OPINION, not making a list of teenage demands that MUST be met.
Your child's school schedule. You will want to create a visitation schedule that doesn't interfere with your child's education. A mid-week visit scheduled with the other parent that lasts until 10pm is not a good idea if your child has to be up at 6am the next morning.
Evaluate everyone's schedules and create an appropriate schedule for your child. You can take advantage of school breaks and long weekends so the non-custodial parent can spend more time with the child.
Your child's activities. Your child's activities will change over time but it always a good idea to include provisions that address your child's activities and what to do when they interfere with the visitation schedule.
When you use Custody X Change to create your visitation schedule you will be able to print out a calendar of the schedule. You will always be able to plan ahead without counting days on a standard calendar. You can also use the software to add in any provisions regarding the child that you would like to include.
How can I make sure that my schedule is a success?
The best way to get your visitation order approved by the court is to work together with the other parent and agree on one.
This might seem like an impossible task for some people, especially since you have valid reasons for your separation. However, if you work hard to put your differences aside for the sake of your child, you should be able to come up with something you can both agree on.
Mediation is available to parents who need help reaching an agreement. In some states, mediation is even mandatory. Regardless, it is a valuable tool you can use to help you negotiate a plan.
If you submit a custody plan and visitation schedule to the court that you both agree on, the court will review it to ensure it is in the best interest of your child and if so, it will be approved.
You can use Custody X Change to create several different visitation plans for your ex to review. The more options you make available, the more likely the other parent will be to agree on one.
How can I prevent my teenager from using us against each other?
The last thing you want is to be at the mercy of a manipulative teenager. Even married couples can be faced with the challenge of raising a teenager that tries to take advantage of them by pitting them against each other. Separated and / or divorced parents have even more of a challenge.
The best thing you can do to prevent this is to create a united parenting front. This involves co-parenting in a way that lets your child know that the rules at Mom's house and the rules at Dad's house are very similar. It involves letting your teen know that if he is grounded at Dad's house, his punishment will follow him to his Mom's house.
The key to creating a united front is to include detailed provisions in your custody agreement. Custody X Change addresses all of the standard issues and has room for you to include additional provisions as you see fit.
If you create a list of rules (and perhaps appropriate consequences for breaking them) in your custody plan and you both are able to agree with them, it will help prevent a lot of stress in the future.
You should never try to undermine the other parent unless you feel he or she is doing something absolutely wrong and even then, you should attempt to talk about things privately.
Communication is something that a lot of former couples failed to master, but when it comes to your child, you should try to develop a method of communication that works so that you and your ex may co-parent your teen successfully.
The easiest way to make a visitation schedule for teenagers
Creating a schedule on your own can feel overwhelming. You have to be sure to use airtight legal language and can't omit any required information.
The Custody X Change app takes the guesswork out of the equation by helping you build a schedule piece by piece.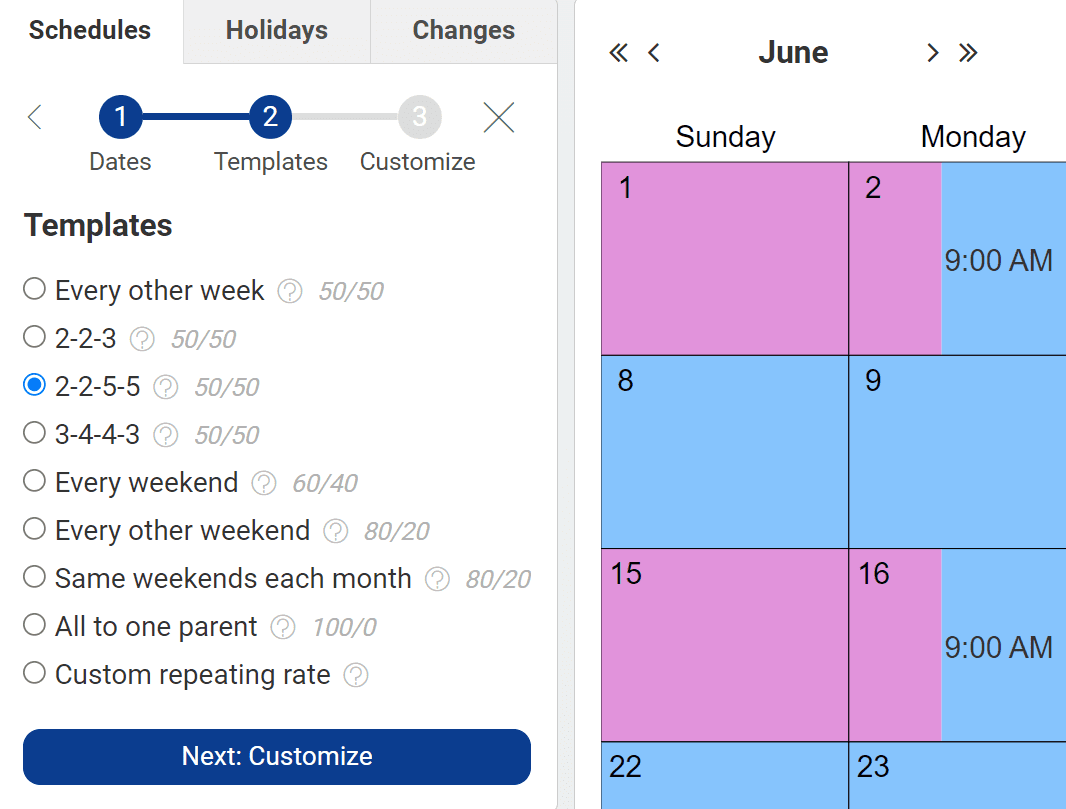 As a result, you get a written schedule and a visual calendar. They meet your family's needs, as well as the court's standards.
For quick, reliable and affordable help making a custody schedule, turn to Custody X Change.
Custody X Change is software that creates custody schedules and parenting plans. You make each part of your schedule, and then you can print your calendar and plan.